The Point of Sangomar is a magical place. A narrow sandbar at the southernmost end of the Petite-Côte in Senegal, the small, wind-battered fishing port sits at the mouth of the Saloum Delta.
From Joal-Fadiouth to the village of Dionewar on the Point of Sangomar, men have fished and women have collected shells from the shore since the dawn of time.
It is also the site of Sall's marine reserve. With the help of a small team of young men and women, he is replanting the area with mangroves, which allow fish to breed and therefore replenish their stocks.
"We are sitting on a time bomb, we don't know when it's going to explode. But if we let nature run its course, things well return to normal," he said.
As the saying goes in Wolof, "Lepou ngepe lou lenou guene," or, "What belongs to everyone, belongs to no one."
If managed correctly on a local and global level, the ocean's resources are boundless. Unfortunately, that has not been the case in Senegal, where the waters have been depleted by competition.
At a nearby hotel bar, Spaniards rub shoulders with the locals.
Many are retired merchant marines or industrial fishermen who say they are amazed at the sudden rise of industry in Joal-Fadiouth.
"Sheikh", one of the biggest fish wholesalers in Joal-Fadiouth, proudly wears a golden sardinella around his neck.
"Ever since the arrival of the Omega and Elim fishing companies, business has boomed," he said. "My brother and I own several pirogues. We're able to sell around 50 cases of fish to the factories, which always pay well and on time."
---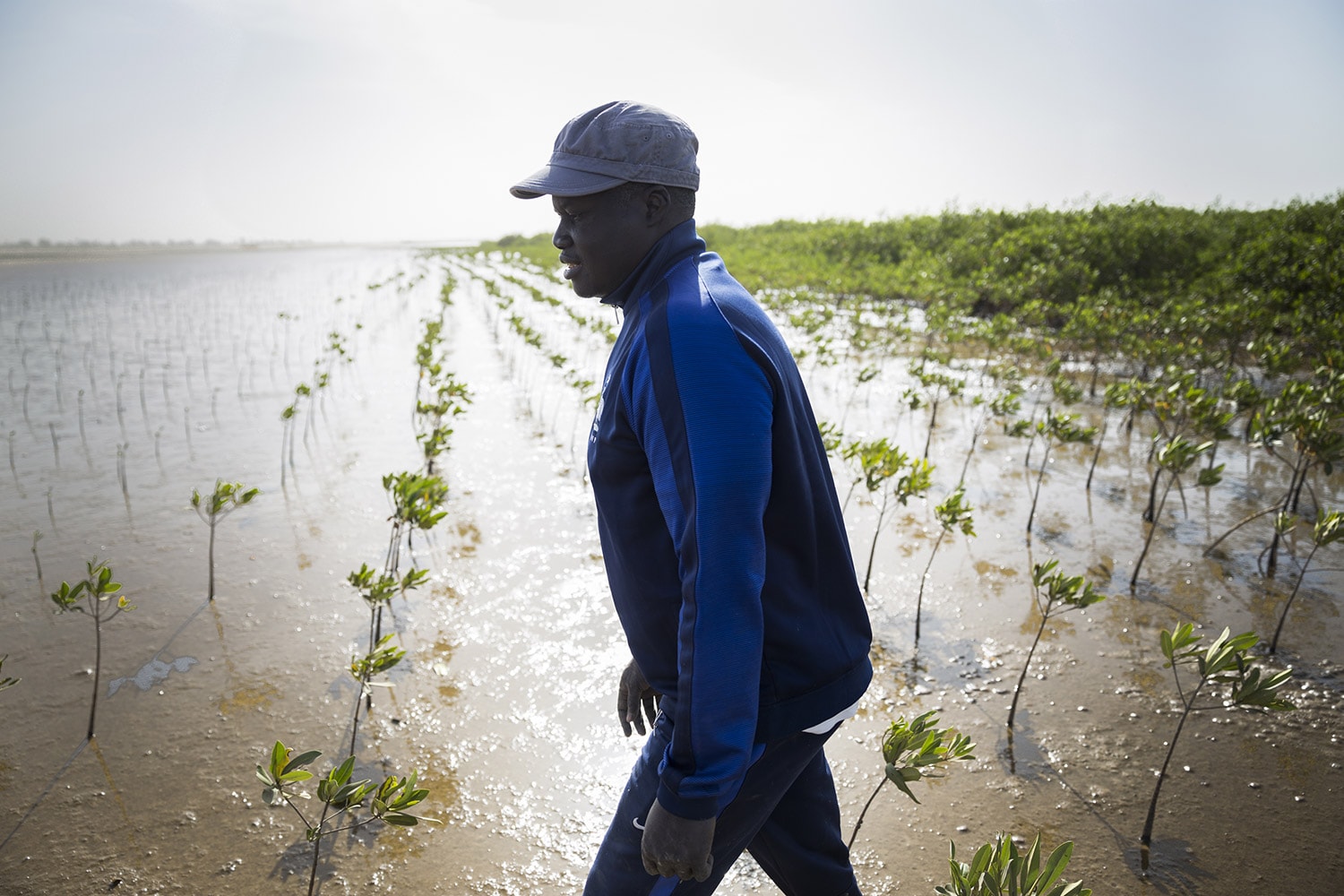 Abdou Karim Sall walks through the mangroves.
---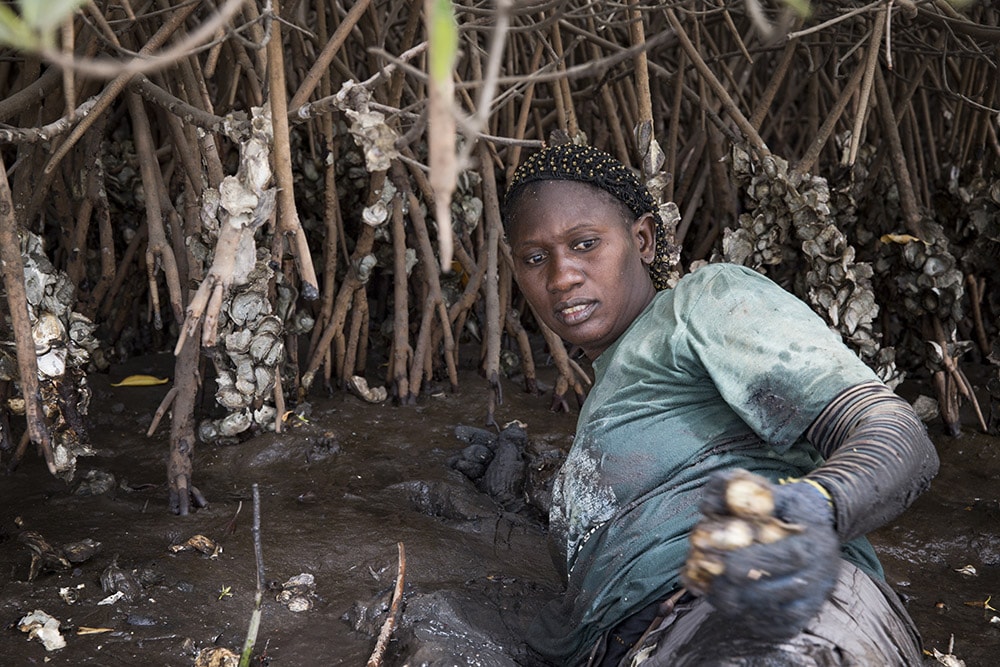 Bintou Sonko harvests oysters from the mangroves in Sine Saloum, near the Point of Sangomar. She and many other inhabitants depend on the local ecosystem.
---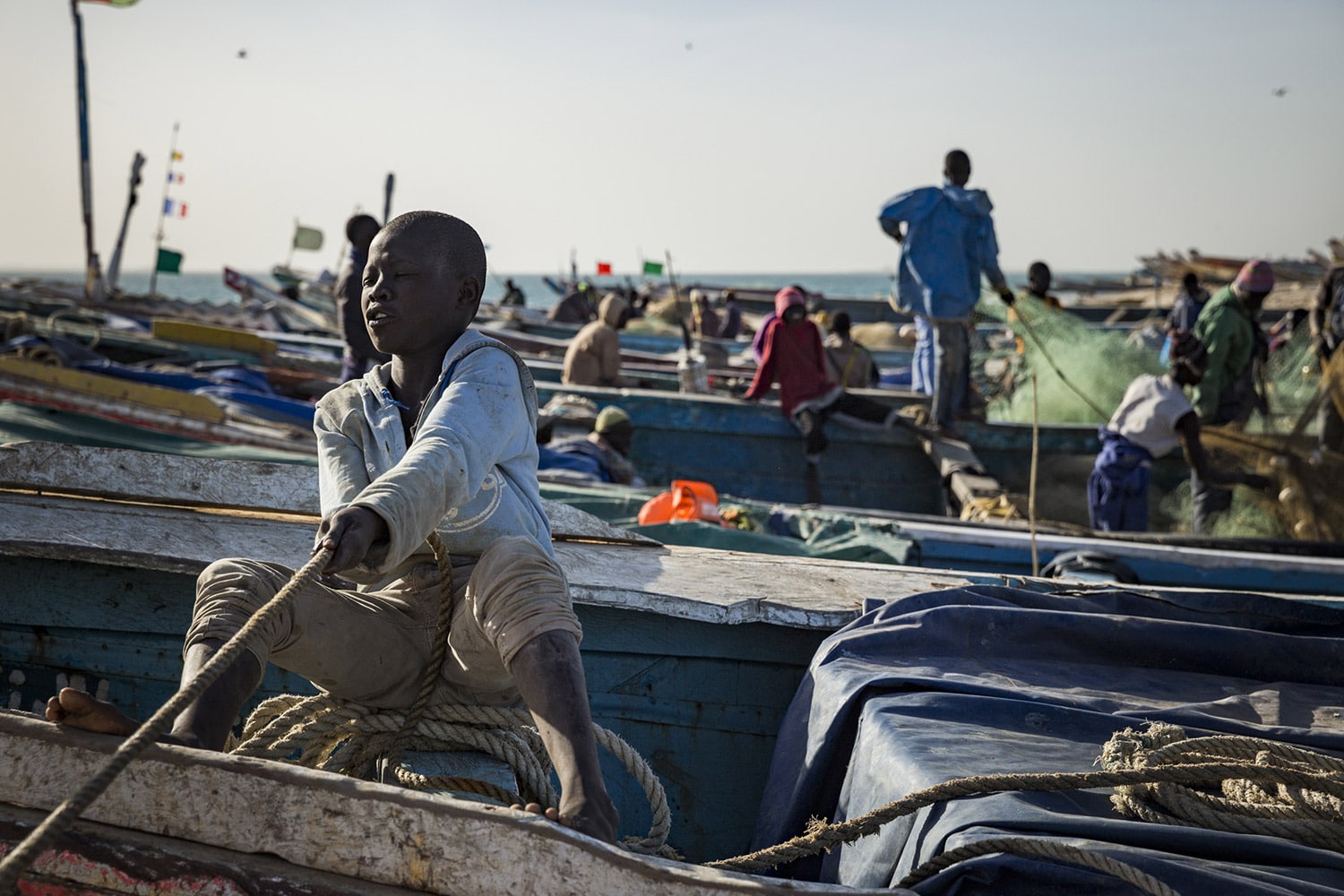 The Point of Sangomar has become an important port from where fishermen can disembark to reach Gambian and Guinean waters. But the future of younger generations remains uncertain.
---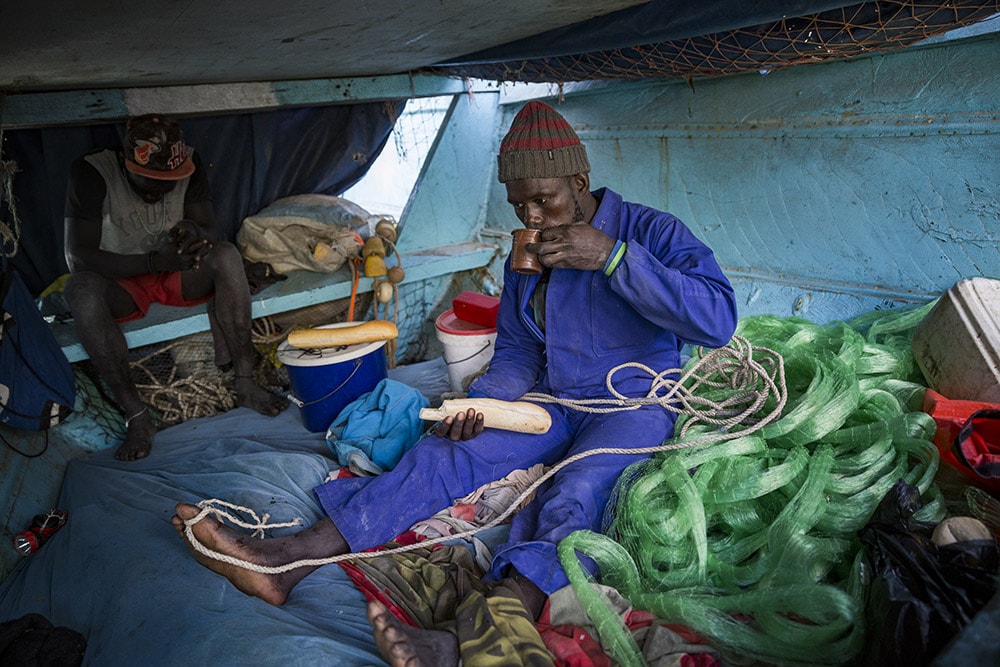 Alphang Sarr works on a new 800-metre-long net that he hopes will improve his chances at catching fish. "I barely scrape by fishing… I've had this pirogue for three years. It cost me 3 million West African CFA francs (€4,500), the motor cost 2.2 million (€3,200), the net 1 million (€1,500), which I don't have the money to pay back."
---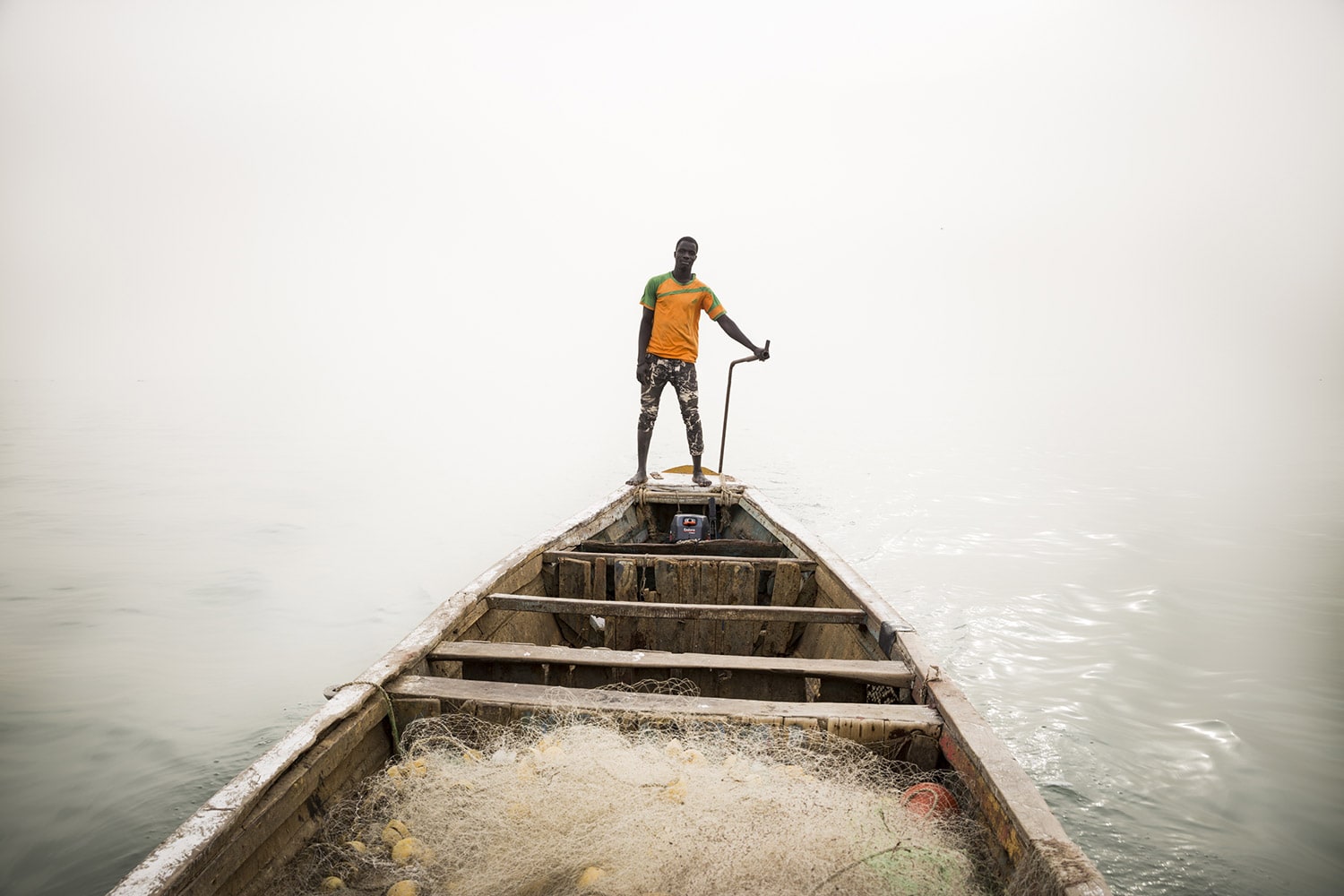 After a day at sea, the boat returns with barely enough fish to feed the crew. Over the last 30 years, fish stocks in Senegal have decreased by 80%.
---
Alphang Sarr feels bitter about the situation.
A native of the Saloum Delta, Sarr, and other members of his tribe, the Niominka, have watched an influx of ethnic Lebus arrive from Saint-Louis, near the border with Mauritania, where fishing has become too complicated.
The Mauritanian government is fiercely protective of its waters, and the coast guard has been known to shoot on sight: a fisherman was killed off the coast of Mauritania in January.
Because of the growing strain on local resources, Sarr has been forced to sail as far as Gambia, Guinea-Bissau or even Sierra Leone to find fish. Unfortunately, it's no paradise there either.
"In Gambia, we caught three crates, which brought in 20,400 West African CFA francs, (€31). It costs 50,000 West African CFA francs to buy enough gas to go out to sea. I'm unable to earn what I need. There are 30 people in my family," he said.
In desperation, Sarr's brother left for Morocco with the hope of reaching Spain one day. "He left without telling me, even though I had given him a job so that he would stay. I still don't have any news from him."
Near Dakar, the situation is even worse than in Joal-Fadiouth or the Point of Sangomar. The Hann Bay, once one of the most beautiful in Senegal, is now littered with rubbish. Young men spend their days on the beach sitting on unused nets, waiting for an opportunity to leave.
"Young people are going to leave. So am I. We're all going to leave because there's no more fish," said Yorou Sow. "That's why young people have to immigrate illegally. A friend of mine died in Libya last year. His name was Mahada."
More than 2,000 people have left Hann Bay, also known as Yarakh, since 2006. They venture from Africa to Europe, where they settle in Italy and Spain. Some end up in Lorient, where there are still fish to be caught.
---