Kane wants to take us to where his adventure began: the port at Joal-Fadiouth, which developed during the 1970s with the arrival of fishing families, like the Kanes, from Saint-Louis in northern Senegal.

The town – which is strategically situated on the Petite-Côte halfway between the Dakar market and the abundant waters of Casamance in the south – has prospered largely thanks to sardinella, which is known as yaboye in the local Wolof language.

At Joal-Fadiouth, the loading docks are divided into two sections: the "Africa zone" and the "Europe zone".

In the "Africa zone", fish are dumped on the ground without a second thought. The hall, which is packed so tightly that it is difficult to move through the crowds, is almost entirely covered in mud. It is here that sardinella are unloaded and then transported to local and regional markets. Trucks, or sometimes even family cars, are loaded with fish and then driven to the northwestern regions of Fatick and Touba. The fish are put on ice until they reach the Dakar market.

But any fish that touches the ground in the "Europe zone" is immediately discarded. Access to the area is tightly controlled, and the hall is cleaned regularly. Fish – often thiof or hogfish – are inspected and then loaded onto refrigerated trucks and transported to freezing plants.

The two sections are separated by a wall less than 20 centimetres wide.
---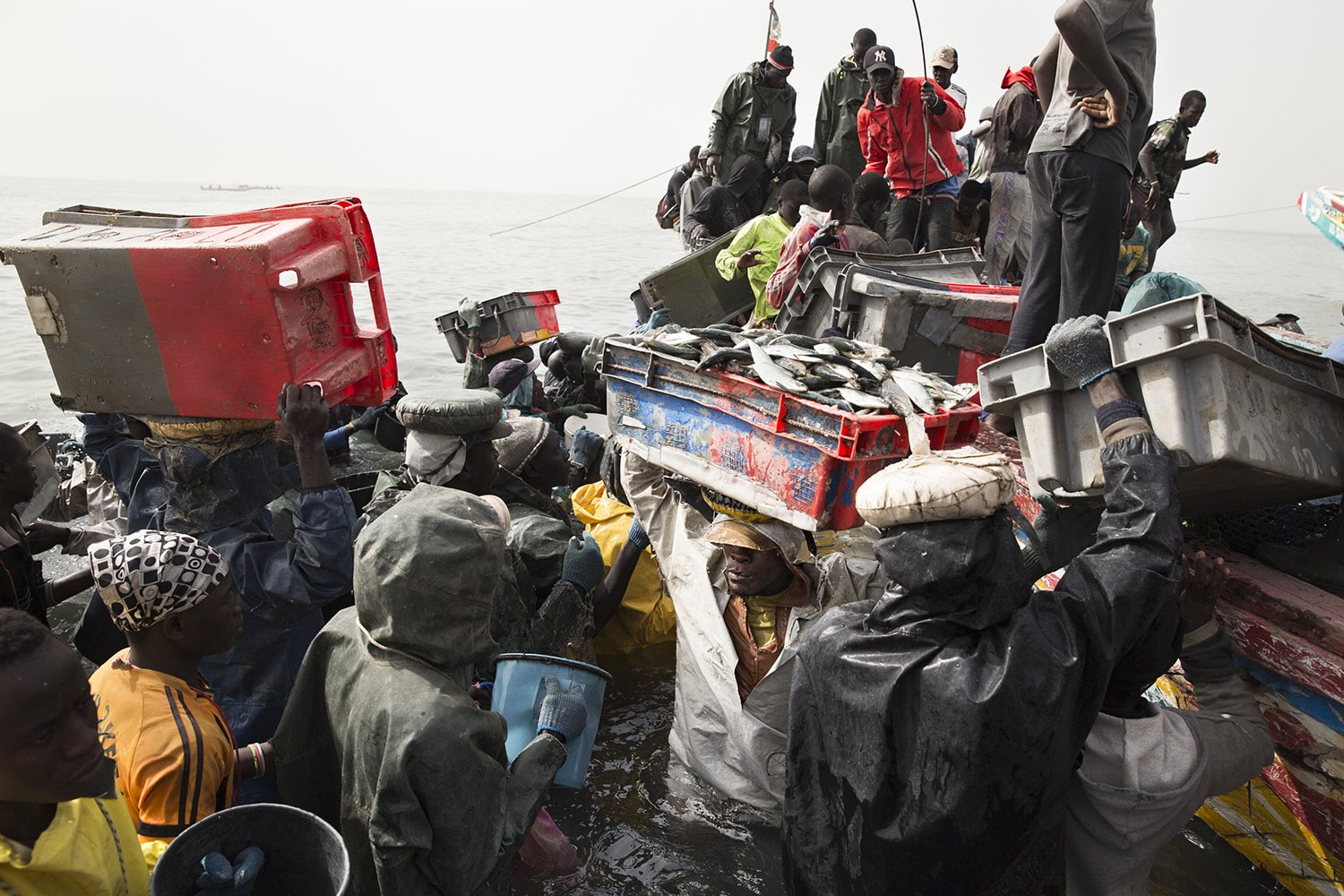 Fish are unloaded at the port in Joal-Fadiouth. An estimated 600,000 people live directly or indirectly off the traditional fishing industry in Senegal, which was worth 217 billion West African CFA francs in 2017.
---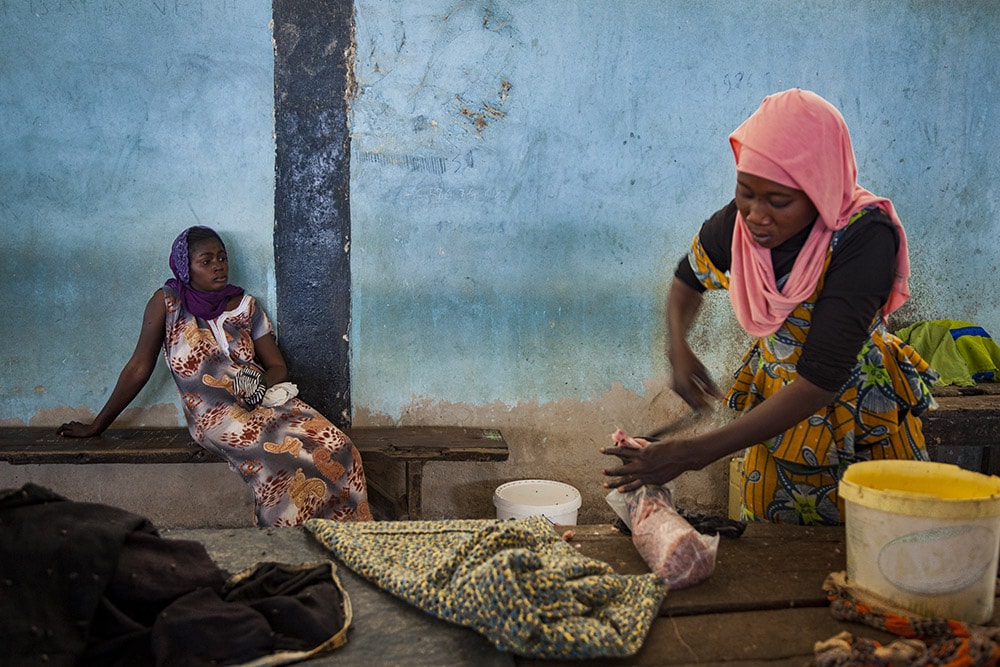 Women mostly sell and clean fish.
---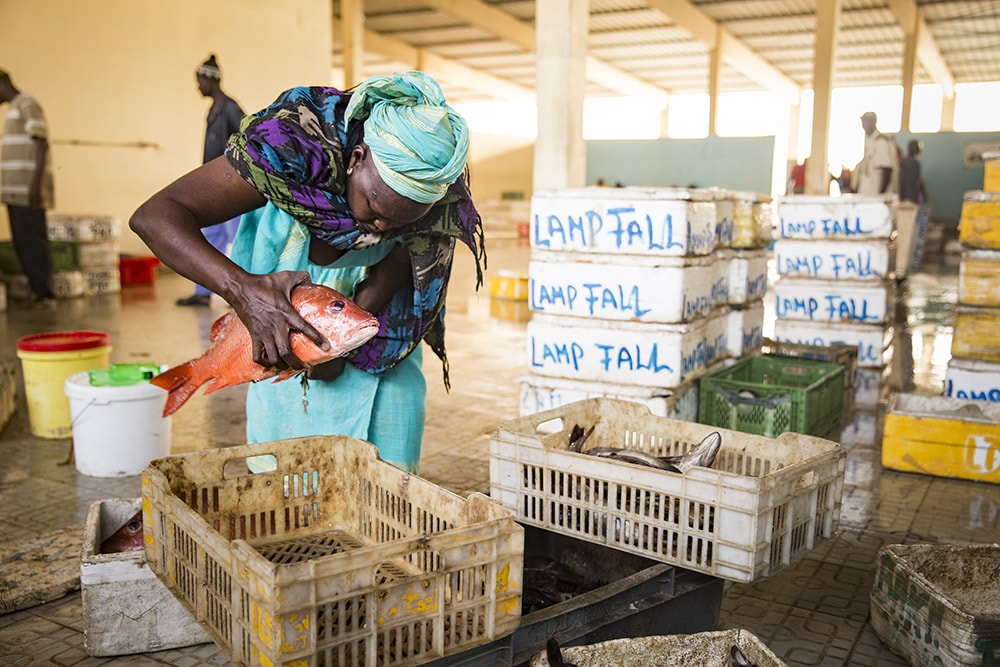 Fish are stored in the "Europe zone". Thiof is exported or shipped to Dakar. Sardinella and other small fish like mackerel are reserved for local markets.
---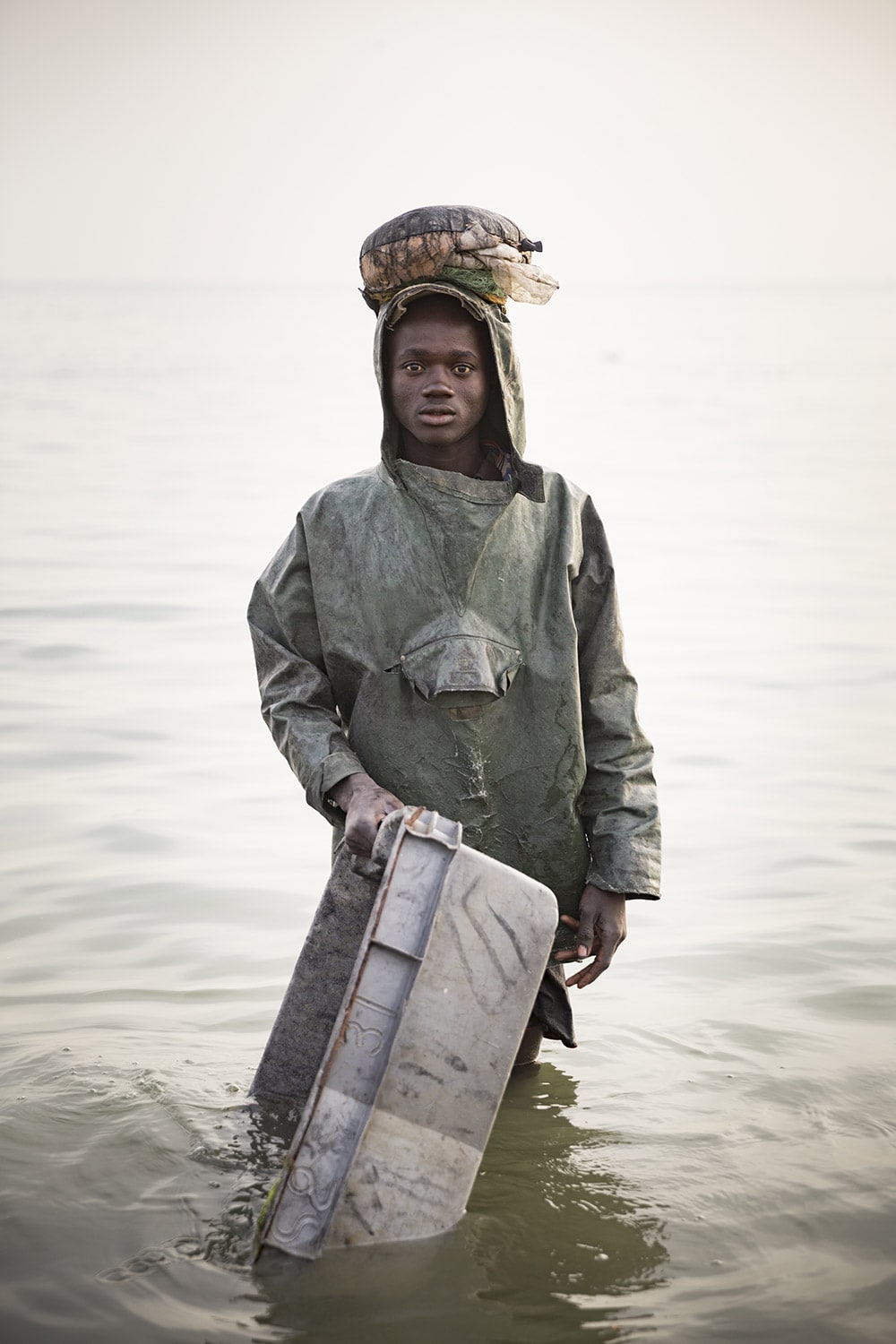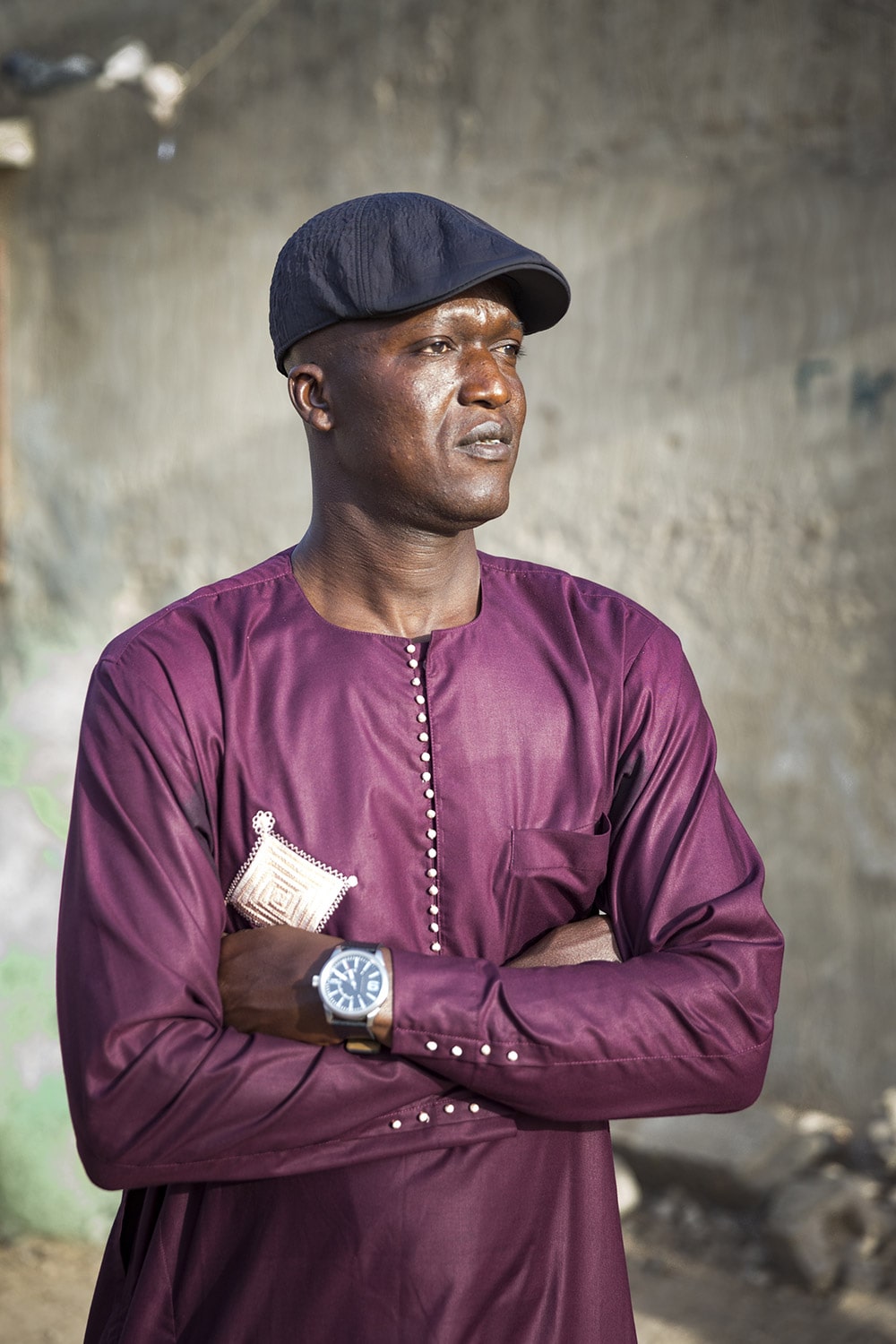 A crate carrier waits to unload fish. Omar Kane poses in traditional dress.
---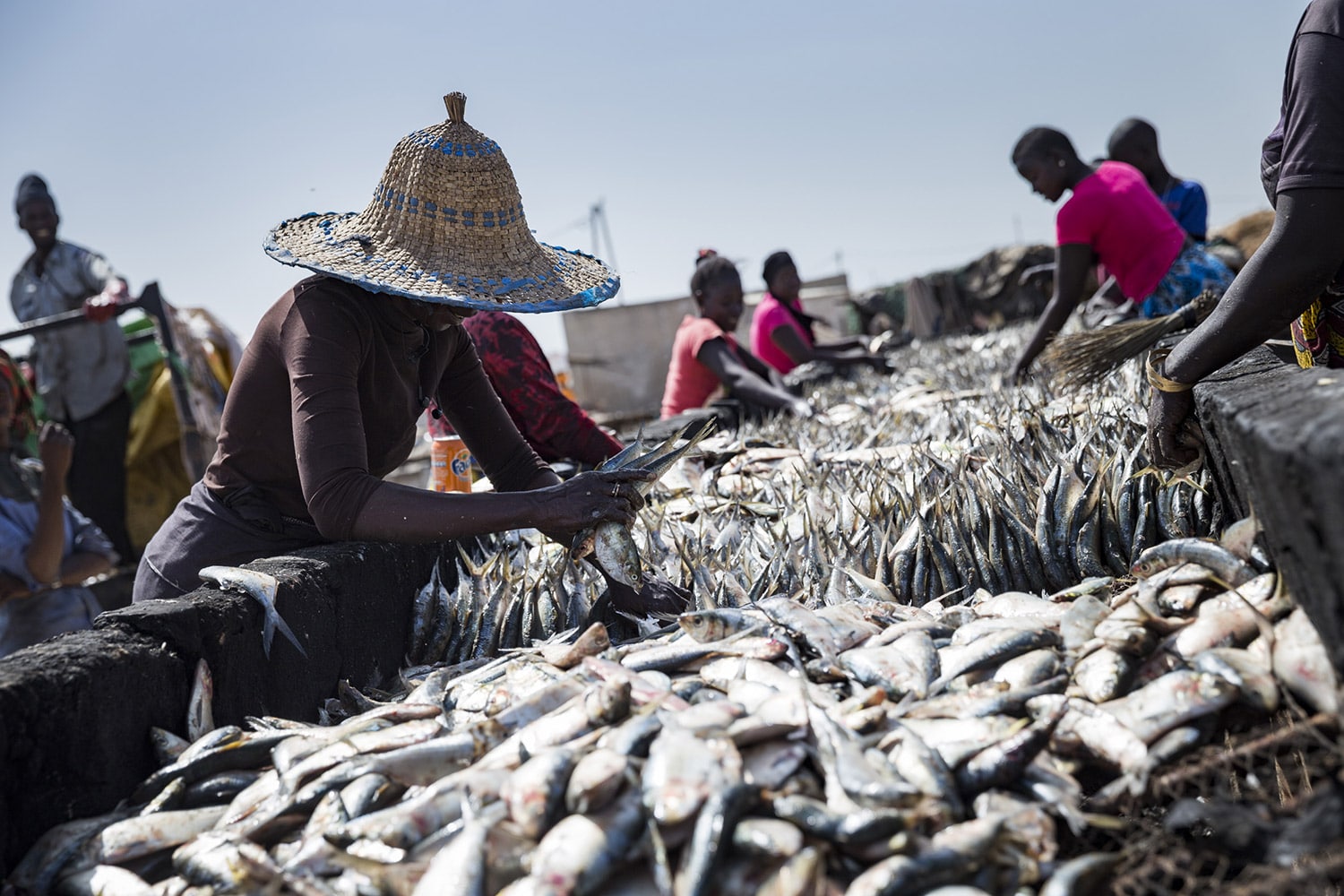 Women salt and smoke fish, which are shipped to nearby countries such as Mali and Burkina Faso.
---
The vast majority of Joal-Fadiouth's 50,000 inhabitants live off the traditional fishing industry. Ethnic Serer, Wolof and Fula people flock from the countryside to the port town, where they will do anything to scrape by.
"You can easily integrate into the traditional fishing sector and make a daily wage, even if the quality of life isn't great. When you talk to people at the port seven out of 10 of them will tell you that they started working there 10 years ago. They work for a season, going back and forth, and are able to build a home and feed their families," explained Kane.
A few years ago in Joal-Fadiouth, it was unthinkable that a fisherman might return from sea empty-handed. Since 2006, however, overfishing and the growing number of pirogues have depleted the waters. The situation has left local fish wholesalers, like Diakhate, worried.
"The people that you see here, they come from all over Senegal. There are also people from Burkina Faso, Guinea and Mali. They go fishing. They'll stay out the entire night and the next day, but when they come back, they've caught nothing. Sometimes you see people go out for 15 days, and come back with nothing. We don't want to admit it but we've got a dead sea here. It's because we've been fishing recklessly for years. Everyone knows what's going on, but we all stand by and watch without saying anything," he said.
The proliferation of unregulated fishing is now threatening the main pillar of Senegal's economy, in terms of exports and jobs.
"They say that we shouldn't fish more than 250,000 tonnes of sardinella per year, any more than that and we're fishing our stock. Yet at the height of the season, we catch more than 150,000 tonnes in Joal alone," said Abdou Karim Sall, a former fisherman and member of APRAPAM, an organisation that promotes responsible fishing practices.
---