Migrants cling to a fence at the Moria detention centre on the island of Lesbos. © Sarah Leduc / FRANCE 24
Greece is in the eye of the two storms tearing Europe apart, first pummelled by austerity and now quarantined to keep migrants at bay. Its people have opened their hearts and homes to those in need, even as wealthier countries close their borders. But with the twin crises festering, this impoverished nation of 11 million is being pushed to breaking point.
Will they deport us? Send us back to Turkey? To Syria? Why don't they open the borders? A frenzy of anxious questions greets us as we walk up to the tall metal fence that circles the camp of Moria, a short drive north of Mytilene. Moria is a "hotspot" – a Eurocratic euphemism for what is effectively a detention centre. The facility has a capacity of 2,000 but there are already 2,800 people inside, including many children, and more arrive each day. Journalists have no access to the centre, but Greek police close an eye when we address the migrants of all ages who cling to the barrier, desperate for news about their fate.
They are mostly Syrians, Afghans and Pakistanis. Some have been moved here from other, informal camps on the island. Others missed the midnight deadline on March 19, after which the deal with Turkey came into effect. All are liable to be deported if they fail to apply for asylum in Greece or their application is rejected. "No Torkia [Turkey]!" they plead, dismayed at the suggestion Europe plans to send them back.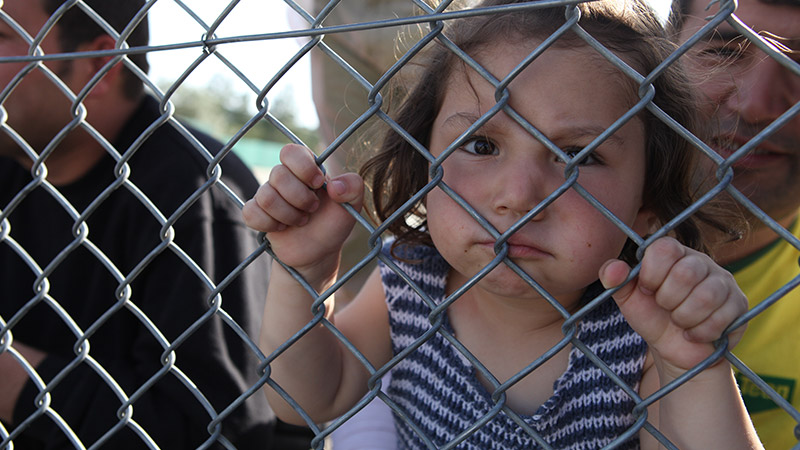 Rights groups say the detention of children inside Moria constitutes a flagrant violation of refugee conventions. © Sarah Leduc / FRANCE 24
Mohammed, a native of Damascus, says he arrived on the evening of the 19th, but had to wait three days before registering with Greek authorities – meaning he missed the deadline. He hails from Yarmouk, the Syrian capital's unofficial refugee camp populated largely by Palestinians. After five years of war, Yarmouk is now a field of ruins. So are the great cities of Aleppo and Idlib, which Mohammed travelled through on his way to Europe. He says police inside Moria told him he could apply for asylum in Greece, but nowhere else. Mohammed has no such plans. "Greek people are good, they fight for us," he says. "But they told me you can't find work here."
The policeman told me, 'If you keep coming I will arrest you and send you to Turkey'
Outside Moria we meet Sham, a 19-year-old Pakistani who slips out of the camp every day to fetch something to eat, using a gap in the fence. He says the food inside is scarce and "not edible". It is so bad that some 200 fellow Pakistanis, who are being kept in a separate part of the camp, went on hunger strike for two days. As he speaks, Sham pulls out his mobile phone to show us a picture of a huge heap of dumped food.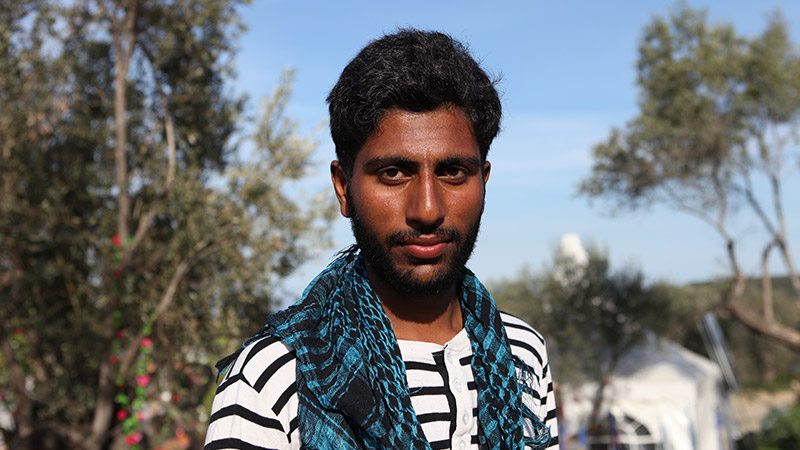 Sham, 19, slips out of Moria every day to fetch something to eat. © Sarah Leduc / FRANCE 24
The young computer science student is something of a veteran in Lesbos, where he landed in February. He is also an example of the many hurdles and dangers asylum seekers face on their way to Europe. Sham left his native Punjab, near the Indian border, in early January but was kidnapped in Iran, beaten and used as a pawn to extort money from his family. Two large scars on his left arm bear witness to his ordeal.
Sham says he tried to register with Greek authorities on several occasions soon after his arrival, but was told that the process was not open to Pakistanis. "The policeman told me, 'If you keep coming I will arrest you and send you to Turkey'," he recalls. When he finally succeeded, it was March 24 and the EU-Turkey deal had come into force. Now he's stuck in Lesbos.
No Torkia, no Troika

The prefabricated structures of the Moria detention centre, with Turkey's coastline visible in the distance. © Sarah Leduc / FRANCE 24
Lying just 10 kilometres away, the Turkish coastline is clearly visible from Moria, an eerie reminder of the threat that hangs over those trapped in this remote outpost of "Fortress Europe". The narrow stretch of water has become a highway for Greek and Turkish border patrols, NATO ships and the multinational fleet deployed by Frontex, Europe's border agency. Not even Barbarossa, the 16th-century corsair-turned-grand admiral of the Ottoman fleet, whose mere name inspired terror from Cyprus to Gibraltar, commanded such a mighty fleet. Barbarossa was born on Lesbos. His father was a Turk of Albanian descent, his mother the widow of an Orthodox priest. Five centuries later, the island is once again a crossroads of the Mediterranean's many diasporas.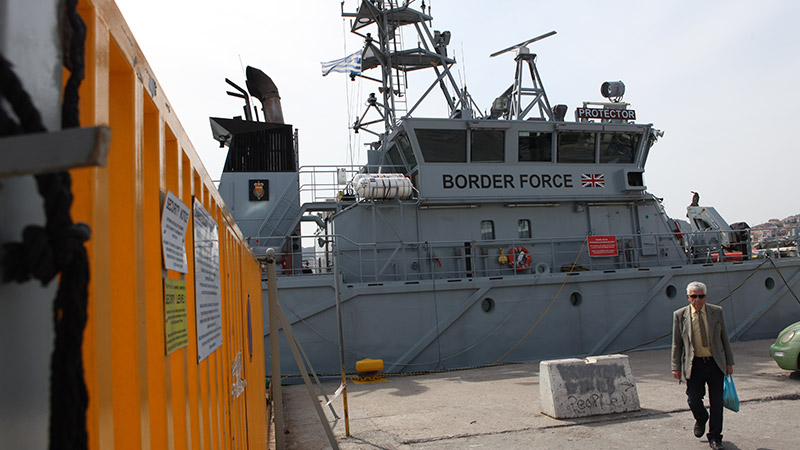 A British patrol vessel in the port of Mytilene, part of the EU's Frontex mission. © Sarah Leduc / FRANCE 24
The formidable deployment of force has reduced the flow of migrants, but failed to stem it. On Lesbos and Greece's other frontier islands, asylum seekers continue to arrive by the hundreds each day. "If there's going to be more bombs, there will be more refugees," says Lena Altinoglou, an English teacher and native of Lesbos, gazing at the blue expanse of the Aegean Sea, named after a mythical king who drowned in its waters.
She runs the Pikpa refugee shelter, just south of Mytilene, the island's main town. Her camp, which is operated and funded by local and foreign volunteers, is one of the few whose population hasn't been transferred to Moria. They are all vulnerable cases, including pregnant women and people with disabilities or psychological disorders. At Pikpa, they have access to personalised medical care, interpreters and suitable accommodation. The children have enrolled in the local school, while many adults take evening classes to learn Greek or English.
Find me one European who wouldn't flee his country if it was destroyed by war!
Altinoglou says she has been heartened by the locals' response to the crisis. "I was expecting a backlash when hundreds of migrants put up tents in the port of Mytilene, but there was none," she says. "It shows people are tolerant here." But Europe's response offered no such comfort. "This Europe has already destroyed my country, now it is destroying itself," Altinoglou laments, slamming the neo-liberal policies embodied by the so-called Troika, which prescribed Greece's drastic austerity cure. "I don't understand how Europeans can fail to feel ashamed. Find me one European who wouldn't flee his country if it was destroyed by war!"
Anger at EU leaders and the sense that they have twice betrayed Greece are recurrent topics in discussions with the locals. They come up again when we call in at Mytilene town hall for a chat with the mayor. Spyros Galinos, 63, says the people of Greece "are carrying on their backs a European problem, despite being exhausted by the [economic] crisis". The son of a hero of Greek resistance against the Nazis, he likens Europe's handling of the refugee crisis to "what happened in fascist days".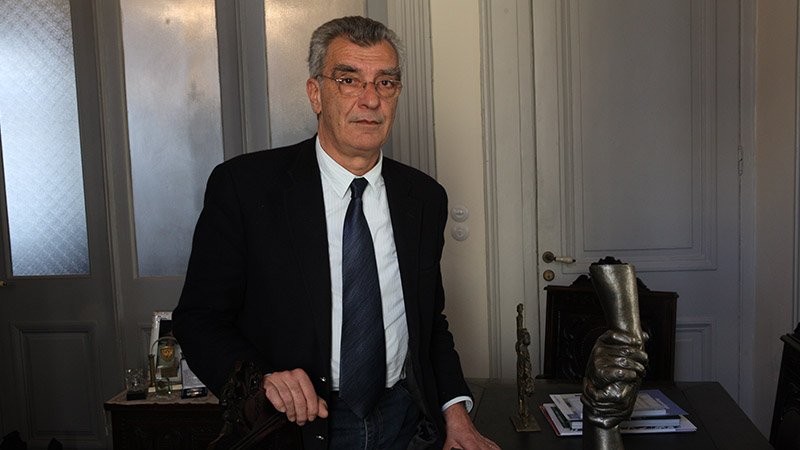 Spyros Galinos, the mayor of Lesbos, poses next to the first section of a "statue of solidarity" he plans to unveil next month. © Sarah Leduc / FRANCE 24
Galinos has presented a bid for Lesbos to be named European Capital of Culture in 2021. He claims the island of 80,000 inhabitants has shown the way for the rest of the continent. "Europe's future is at stake," he warns, adding that policies now pursued by the EU, including border closures and deportations to Turkey, "create fear, xenophobia and racism, which in turn leads to fascism". The mayor has warm words for the thousands of foreign volunteers who flocked to Lesbos. "They saved the dignity of their countries," he says. "They showed individuals are more progressive than their governments."
'Stop the dirty deal'

Protesters in Mytilene slam Europe's deal with Turkey. © Sarah Leduc / FRANCE 24
We meet with Sham again outside Moria on April 3, a day before the scheduled start of deportations to Turkey. He and his brother plan to spend the night hiding. They look agitated, aware that their nationality places them at risk. "They will start with the Pakistanis," Sham says. "They are keeping them in the prisoner place inside the camp. They will be deported first."
He is right to be anxious. The next morning at 3am, six buses drive up to Moria to pick up those designated for deportation. A total of 136 people – most of them Pakistanis – are driven down to the port of Mytilene, where two Turkish ferries chartered by Frontex await. Each migrant is accompanied by a security agent. Their departure signals the start of a new phase of Europe's refugee crisis, one that Amnesty International has described as a "historic blow to human rights". It follows frantic days of preparations marked by conflicting reports from Greek, Turkish and EU officials over how many people would be deported, by whom and from where.
We don't want this Europe of deportations
Outside the coastguard docks in Mytilene, from where the ferries leave for Turkey's Dikili, dozens of protesters have gathered to vent their anger at the expulsions. They hold banners reading "EU shame on you". "This is the darkest page of the [refugee] crisis, it's the worst day we have experienced," says Efi Latsoudi, a native of Lesbos who has been assisting migrants for years. "All this time we have been fighting for their rights. Now they are being sent back to a country that is not safe. We don't want this Europe of deportations."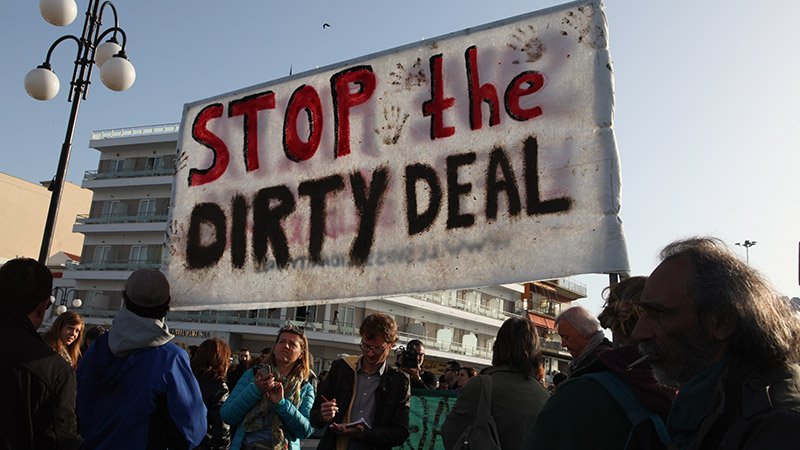 Activists hold banners blasting the start of deportations in the island of Lesbos. © Sarah Leduc / FRANCE 24
At a nearby café we find Aris Messinis, the AFP photographer, surrounded by Greek and foreign reporters eager for the latest snippet of news. The Athens News Agency has just announced that all those inside Moria have expressed their wish to apply for asylum. The deportation process has been put on hold until their applications are processed. Planned expulsions over the coming days have been cancelled "for lack of people who can legally be deported". "It was obvious the deal wouldn't work," Messinis sneers. "This is all one big fiasco."
We hear that police rounded up four Pakistanis who were hiding outside Moria during the night. They didn't find Sham. We meet up with the young Punjabi one last time to bid him farewell. He has made his asylum request, hoping to stay in Greece for want of other options. "My family sold everything so that I get this far, now there is nothing left," he says. "This is my only chance." Sham has made many friends during his stay on Lesbos. He looks oddly at home among the olive groves surrounding Moria, wearing a fluorescent volunteer jacket in full sight of police, "because it looks less suspicious". Greece may have little to offer as it weathers a perfect storm of crises. But for the likes of Sham, it is the best refuge in the worst of Europes.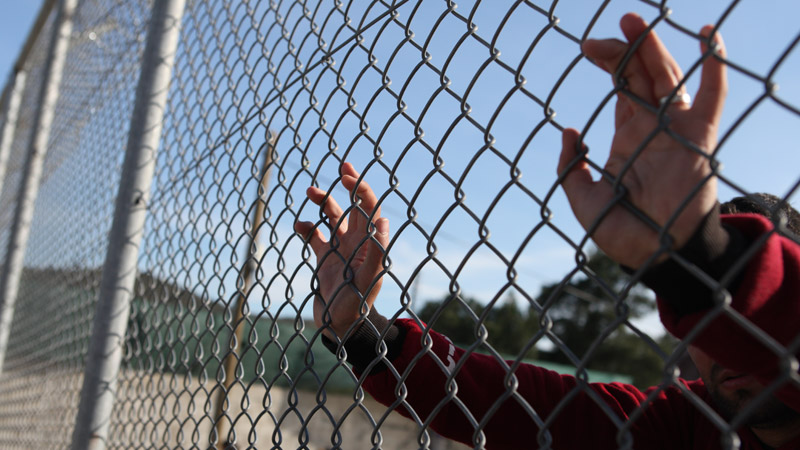 Barbed wire circles the former military camp that is now home to the Moria detention centre. © Sarah Leduc / FRANCE 24