Greece is in the eye of the two storms tearing Europe apart, first pummelled by austerity and now quarantined to keep migrants at bay. Its people have opened their hearts and homes to those in need, even as wealthier countries close their borders. But with the twin crises festering, this impoverished nation of 11 million is being pushed to breaking point.
Pepi Louranton has seen her pension cut five times since Greece began its descent into crippling austerity in 2010, and still officials in faraway Brussels think she earns too much. But when she saw pictures of desperate, drenched and shell-shocked migrants landing on the remote island of Lesbos last summer, it put her own woes into perspective. "I like to wake up in the morning with a warm cup of milk, take a shower, go on the Internet, drive my car. I can do all this," she says. "They have nothing: no country, no future."
We meet Louranton at the port of Piraeus, Europe's largest passenger terminal, a 30-minute drive from central Athens. A former state telecom worker, she spends 12 hours at the port every day managing a team made up of dozens of volunteers. Their job is to distribute afternoon snacks and evening meals to the thousands of migrants stranded in a sprawling makeshift camp that has taken over much of the harbour.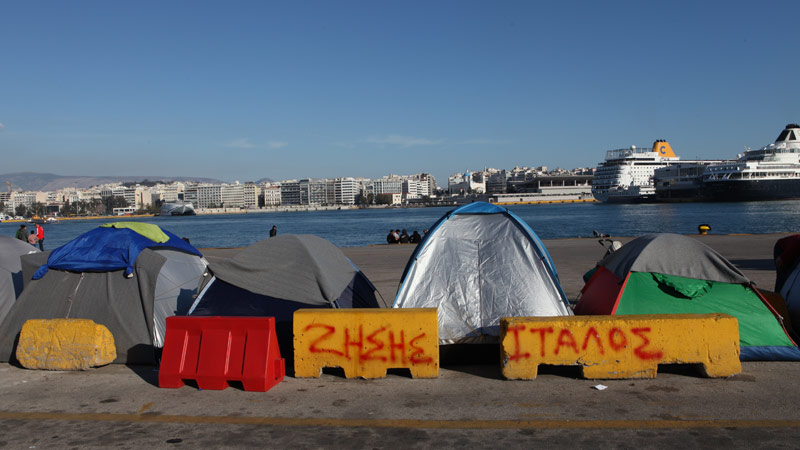 Thousands of tents have sprung up in the port of Piraeus, Europe's busiest passenger terminal. © Sarah Leduc / France 24
Since countries north of Greece abruptly closed their borders earlier this year, more than 50,000 people fleeing persecution, war and poverty have been marooned in this financially crippled nation, unable to continue their journey towards Europe's wealthier north. More than 6,000 are stuck in the port of Piraeus. People of all ages and backgrounds are crammed into passenger areas or out in the open, huddled in overcrowded tents. Men and women live side by side, anxiously guarding their few belongings. Long queues snake outside a handful of portable toilets and showers. Swarms of children run amok as toddlers take their very first steps. With Greece's cash-strapped government struggling to respond to the emergency, all are dependent on volunteers to cover their basic needs.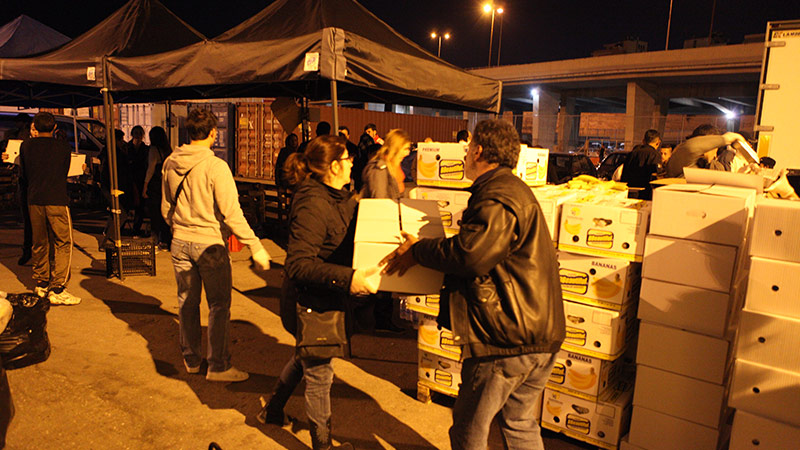 Volunteers form a human chain as a car laden with donated goods arrives in Piraeus. © Sarah Leduc / France 24
"At the moment we serve around 5,500 meals per evening," says Louranton, as a long line of Syrians, Iraqis, Afghans and other nationals forms in front of a stall manned by volunteers, many of them students. "We also hand out warm milk and biscuits in the afternoon, as well as clothes," she adds, leading us into an improvised storage room bursting with stacks of food, water, nappies and baby milk powder, all donated by local businesses and individuals.
They call it philoxenia

The entrance to 'Better Days for Moria', a refuge set up by volunteers outside the notorious detention centre on Lesbos. © Sarah Leduc / France 24
Greeks have a word to describe Louranton's endeavour. It encompasses hospitality, courtesy and generosity. They call it "philoxenia" – literally, love of strangers. The ancient Greeks even had a god for it, and not a lesser one. The mighty Zeus, who reigned over Mount Olympus, was also known as Xenios, the protector of guests. He made hospitality a religious duty. For thousands of years, the notion of philoxenia has accompanied this nation of émigrés, tossed about by the ebb and flow of Mediterranean commerce, migrations and empires. To this day, it is scrupulously observed by many Greeks, including those who barely scrape a living amid the most punishing crisis ever to have hit a developed economy.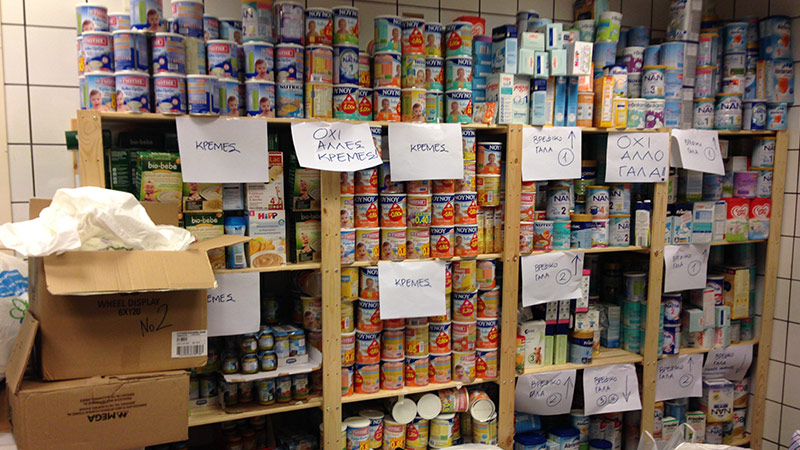 Food and other donated items are stacked up in an improvised storage room in the port. © Ben Dodman / France 24
Piraeus is the seventh camp Louranton has worked at since heading to Lesbos in September to assist migrants. Despite the sheer scale of the misery and the gruelling shifts, her determination has not faltered after 40 consecutive days at the port. Nor was her spirit broken when she was attacked at another camp by a group of migrants, who took her mobile phone and cracked her ribs, before others came to her rescue.
"If I can put a smile on just one child's face, it gives me the strength to come back the next day," she says, adding that she has been heartened by the response from fellow Greeks. "All day long people come and give what they can to help migrants. Yesterday, an old woman handed me four eggs, saying 'I'm sorry but this is all I have'".
Syrians helped us, now we help them
As she speaks, a car pulls up and volunteers rush to collect packs of water, soft drinks, and a huge bag of chickpeas. Athanasios Crestas, a wholesale merchant, has arrived for his daily delivery of food and beverages. Like many Greeks, Crestas is the scion of migrants. His family fled the former Ottoman Empire in the wake of the disastrous Greco-Turkish War of 1919-22. He tells us that history has taught Greeks to be generous. "The Turks put a knife to my grandfather's neck and asked, 'Are you Muslim or Christian?'" he says. "My mother fled to Greece, others to Syria. Syrians helped us then, now we help them."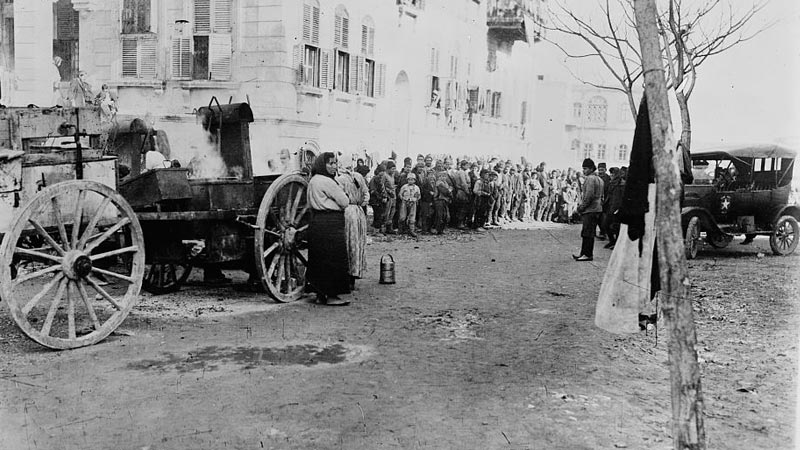 Greek refugees arrive in Syria's Aleppo during the "Asia Minor Catastrophe". © The Library of Congress
The great exodus of Anatolia's Greek Orthodox population – known in Greece as the Asia Minor Catastrophe – is a recurrent theme when discussing the present migrant crisis. An estimated 1.5 million people fled the region around Smyrna (today's Izmir), where Greeks had lived since antiquity and outnumbered the population of Athens. Just like today's migrants, many landed in Lesbos, before moving on to the Greek mainland.
The refugees from Asia Minor had a profound impact on Greece, then a backward country of five million. For centuries they had constituted the Ottoman Empire's merchant elite. They were worldly and sophisticated, spoke several languages and had finer tastes. As a Greek saying goes, "the recipes came with the refugees". There would be further immigrant waves following the expulsion of the ancient Greek communities of Constantinople (Istanbul) in 1955 and of Alexandria shortly after. Throughout the 20th century, poor Greeks also left their country in droves, heading first for the United States, then Australia and later Germany.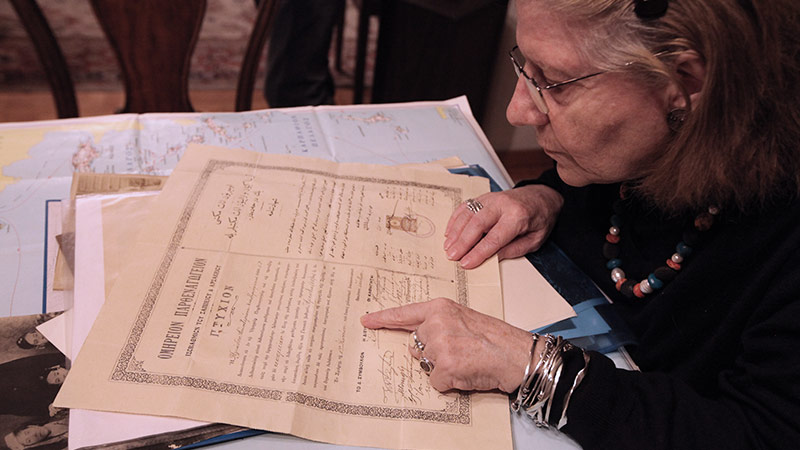 The family archives of Irène Louzakis and her brother Christos contain a treasure trove of documents from Greek-speaking Smyrna, today's Izmir. © Sarah Leduc / France 24
Modern Greece's ability to welcome foreign migrants of a different faith was tested by the collapse of communism in southeastern Europe after 1990, when close to a million Albanians, most of them Muslims, crossed the border. They blended in relatively easily, finding work in the then flourishing construction sector. But those were boom years, and Greece's present situation is a world apart. "When the Albanians arrived, there was plenty of work around. We could absorb them easily," says Christos Louzakis, a retired producer of ouzo, Greece's traditional alcoholic beverage, and a descendant of the Greeks of Asia Minor. "But with 37 percent unemployment, we cannot incorporate a single one [of today's migrants]."
'Shock therapy'

The former international airport at Ellinikon was supposed to become Europe's largest metropolitan park – but then the crisis hit. © Sarah Leduc / France 24
In fact Greece has been losing inhabitants in recent years, particularly among the educated youths whose job prospects have been crushed by the economic crisis and the "shock therapy" the country has been put through by the reviled "Troika", the tripartite committee grouping the European Union, the European Central Bank and the International Monetary Fund.
In return for a string of ill-fated bailouts, successive Greek governments have been forced to impose savage spending cuts and tax rises that, critics say, have effectively killed off any chance of economic recovery. What little money the country makes is used to service the interest on its debt, which has actually grown larger as a percentage of GDP because of the shrinking economy. Industrial output has fallen by a third and millions have been pushed into poverty, with little or no prospect of living standards returning to pre-crisis levels in the near future.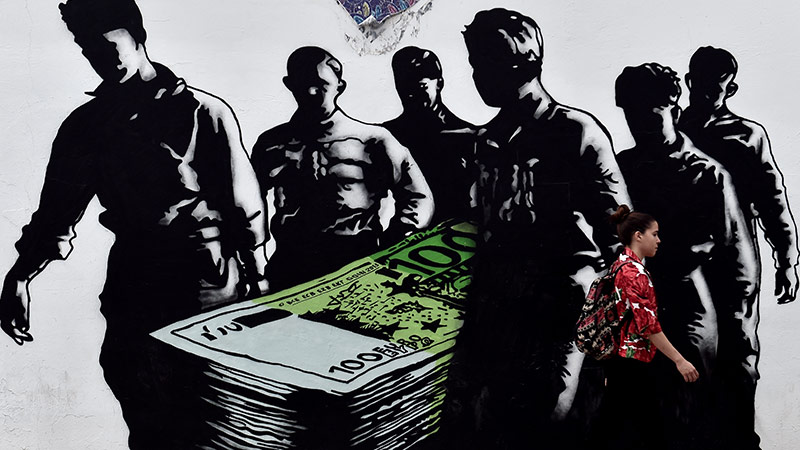 The death of the euro, as portrayed by graffiti artists in Athens. © Aris Messinis / AFP
On paper, Greece's perfect storm of crises offered fertile ground for the very opposite of philoxenia: a surge in xenophobia and support for far-right parties. Its economy is in tatters, it has been bullied and humiliated by its creditors, and is being turned into Europe's padlocked detention centre for migrants. But while many governments north of the border are competing to show the least solidarity, petrified by the rise of far-right movements, in Greece the people's anger and frustration has been channelled largely into support for progressive and compassionate politics.
Greece's left-wing Syriza government came to power in January 2015 vowing to end the crippling austerity that has stifled the country's economy – a promise it failed to deliver on after EU leaders bludgeoned it into submission. Its term in power has coincided with the surge in migrants taking the so-called "Balkan route" from Greece to Europe's wealthier north.
The Greek state has been almost non-existent
The government of Prime Minister Alexis Tsipras has called for a compassionate approach to the refugee crisis. It put an end to the roundups of migrants ordered by its conservative predecessor. It moved to close the grimmest detention centres, describing them as inhumane. It ordered police not to use force to remove people camping in ports and at border posts. The contrast with Balkan countries north of Greece, where riot police have frequently clashed with migrants, is glaring.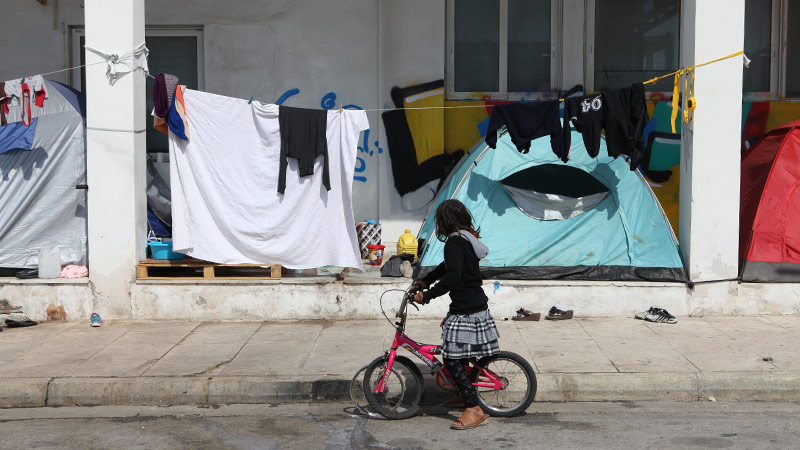 A girl rides a bicycle at the former Ellinikon international airport, which is now a sprawling migrant camp. © Sarah Leduc / France 24
"Syriza's approach was helpful in terms of not fanaticising the discourse regarding migrants. It helped keep racism at bay," says Othon Anastasakis, director of Southeast European Studies at Oxford University. "But it also means Greece was very backward in how it dealt with refugees." When Germany opened its borders to hundreds of thousands of Syrian refugees last autumn, Greece simply waved them through, well aware that none of them planned to apply for asylum in the EU's weakest economy. Athens had no interest in putting in place a functional asylum system. Under EU rules, anyone applying for refugee status on Greek soil would have had to stay in Greece.
This stance became untenable once Austria put a cap on migrants entering its territory in February, triggering a domino effect that resulted in the closure of borders north of Greece. Suddenly, the Balkan route was shut and Europe's refugee crisis became Greece's crisis. But there was no infrastructure in place to deal with it. "The Greek state has been almost non-existent in this crisis," says Anastasakis, pointing to both ideological and practical reasons for this situation. "A leftist party like Syriza can't be seen to be rough-handling migrants, but it is also inexperienced and incapable of getting things done. Furthermore, it is operating on very limited resources because of the state of Greece's economy."



The next part of our special series on Greece will be published tomorrow.