Wallison Henrique de Souza (28) grieves in front of his mother's house in Bento Rodrigues, where he grew up.
A burst dam in Brazil released millions of tonnes of toxic mud and has caused destruction across 500kms, from the mountains of Minas Gerais to the Atlantic Ocean.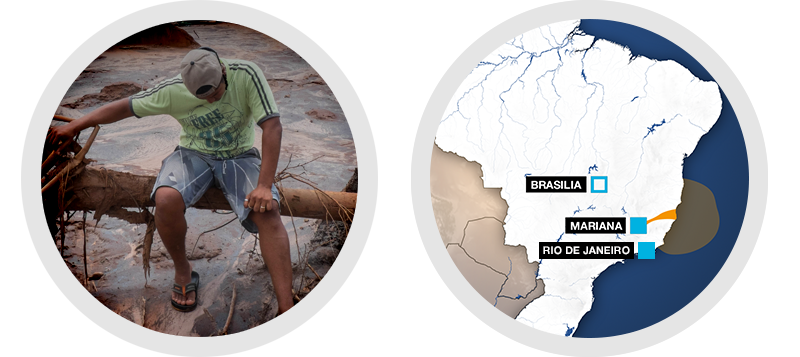 Wallison Henrique de Souza always dreamed of owning his own home. As a bricklayer, he decided to build it himself while living in rented accommodation.

It took three years and more than $10,000 in materials to build a small, one-storey house next to his mother in Bento Rodrigues, a village in the Mariana district of Brazil's mineral-rich state of Minas Gerais.

The area's economy is mostly based on mining. Samarco – a joint venture between Brazil's Vale and Anglo-Australian company BHP Billiton – is one of the region's biggest employers, mining iron ore and depositing the resultant waste in the nearby Fundao dam.
60 million cubic metres of iron ore waste and mud hit the town of Bento Rodrigues.
A red wave of toxic mud

A school in Bento Rodrigues, a subdistrict of Mariana in the Brazilian state of Minas Gerais, after the dam collapse

De Souza's house was nearly finished and ready to live in when on November 5, one of his colleagues arrived at the house and said the tailings dam had burst.
Panicking, de Souza and his family ran to the surrounding hills for safety before taking refuge in another town nearby. Shortly thereafter, 60 million cubic meters of iron ore waste and mud engulfed the town.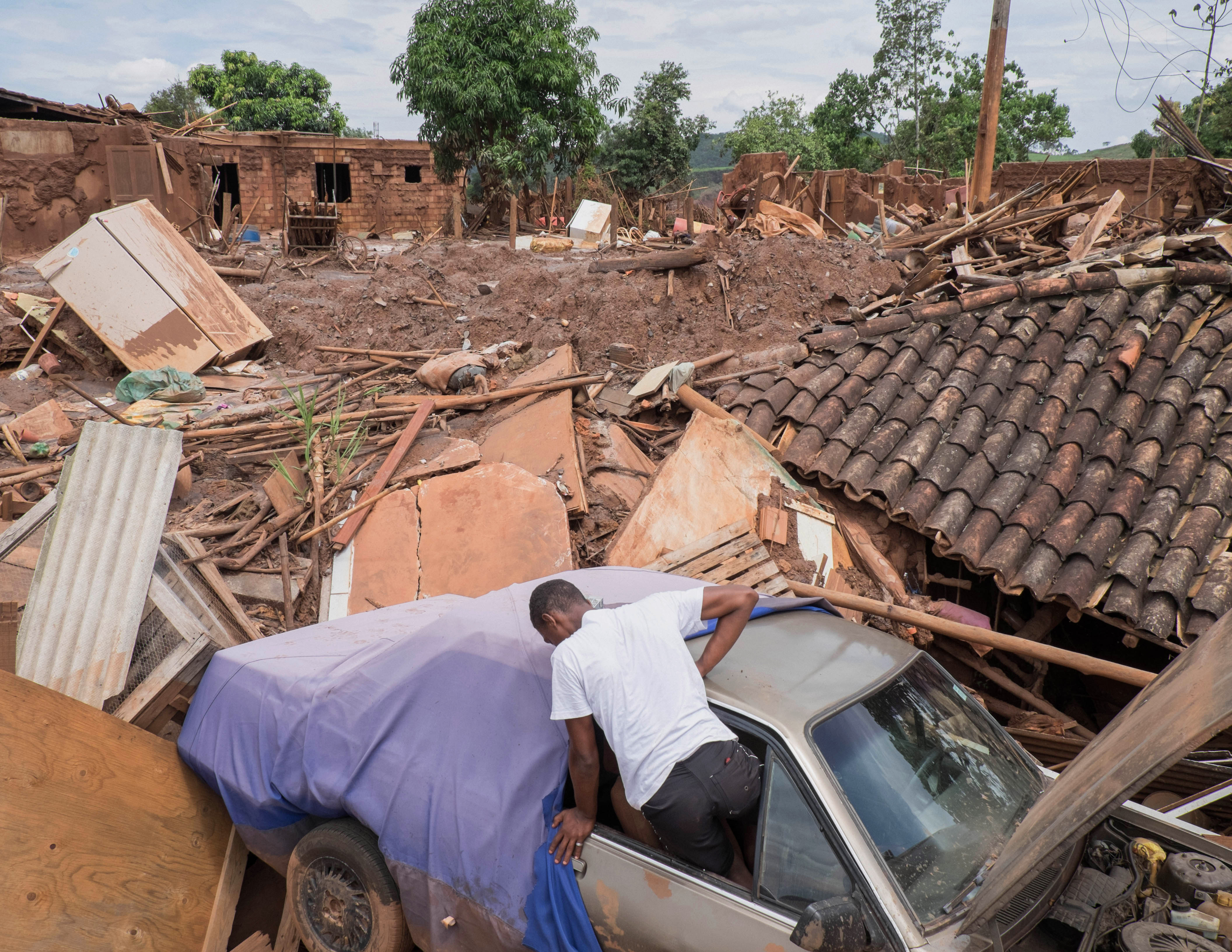 A resident searches for possessions in the muddy remains of Bento Rodrigues.
Bento Rodrigues was wiped off the map. De Souza, 28, and 600 others lost their homes. At least 17 people were killed and three are still missing.
"We knew it was serious. But I never imagined it would be this bad," said de Souza.
The Mariana mining disaster, as it has come to be known, disrupted the lives of thousands and caused untold environmental damage.
A view of the now reddish-brown river Rio Doce in Barra Longa, 70kms away from the disaster zone.

From Bento Rodrigues, the mud travelled 500kms across two Brazilian states leaving hundreds homeless and polluting the region's most important river, the Rio Doce. It affected mineral water supplies and threatened the livelihoods of the region's fishermen before spilling into the Atlantic Ocean from off the coast of Espirito Santo state.



A car buried in mud in Bento Rodrigues

The dam burst was attributed to a severe lack of preparedness and oversight by the companies managing the project, as well as to insufficient regulation of Brazil's mining sector. Returning to the scene of the disaster for the first time, and sitting in front of the ruins of his mother's house, de Souza said he felt empty.


The worst environmental disaster Brazil has ever seen
Speaking at the Paris COP 21 climate change conference in December, Brazilian President Dilma Rousseff described the event as "the worst environmental disaster Brazil has ever seen".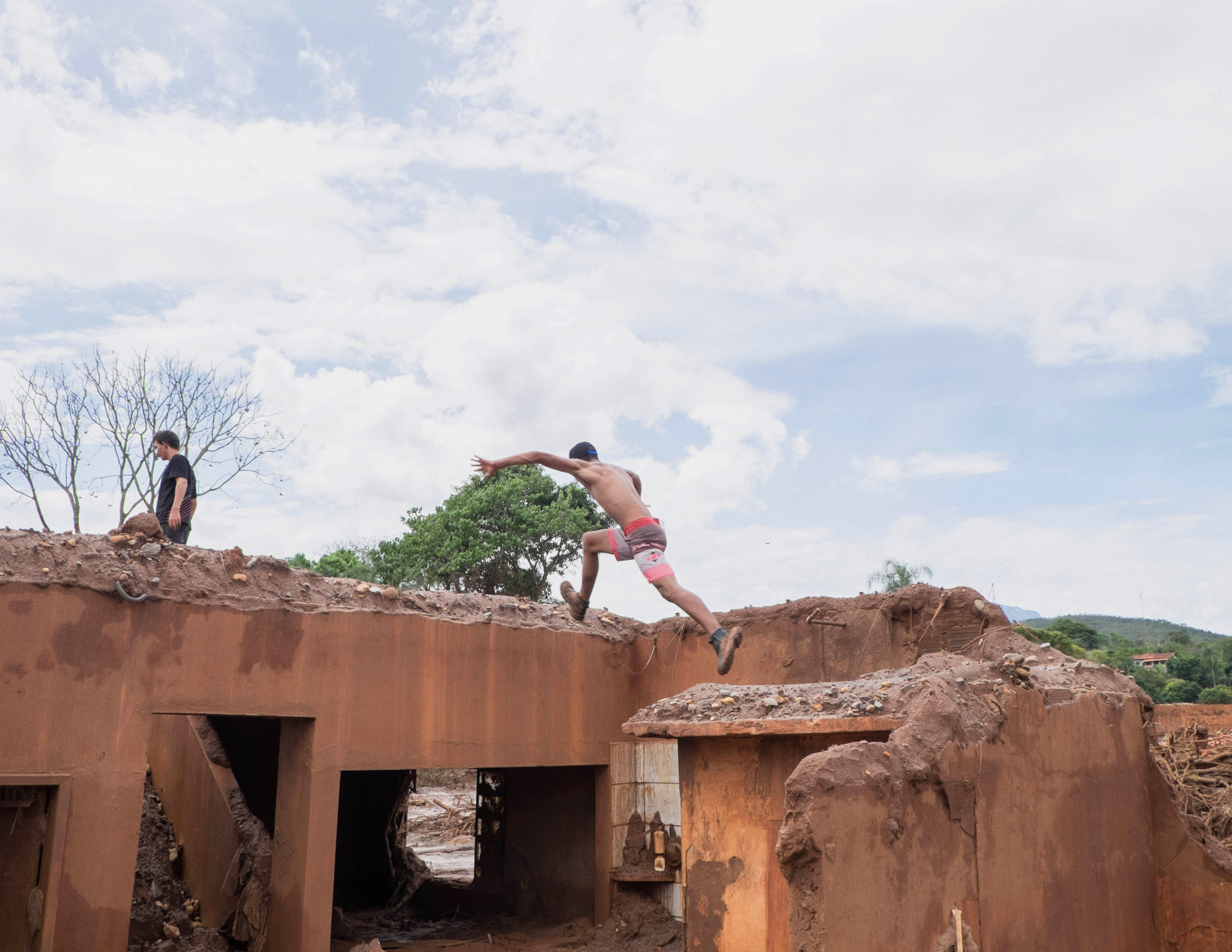 A young man plays in the ruins of Bento Rodrigues.

Samarco was initially fined $265 million by the Brazilian government but the fine was later increased to $5 billion. Vale and BHP's assets have been blocked until the damages are paid.


Bento Rodrigues' residents visit their village after the dam failure.

Following the dam's failure, Samarco was criticised for its slow response to the disaster. It took two weeks to inform the public that two other nearby dams were also in an unsafe state and did not provide information on the possible health risks posed by the mud.

In Barra Longa, a small town 70kms from the original spill, residents accuse Samarco and the local government of not acting quickly enough.
The volunteers from churches across the nation came first to help us, then the Samarco workers
"The volunteers from churches across the nation came first to help us, then the Samarco workers," said Francisco Marcelino, a retired driver. Marcelino now raises chickens while his wife, Dona Cenita, washes clothes to supplement their $200 monthly pensions.
He shed a tear as he described his chickens being swept away in the mud, flapping their wings. "It was the most awful thing I ever saw," he said.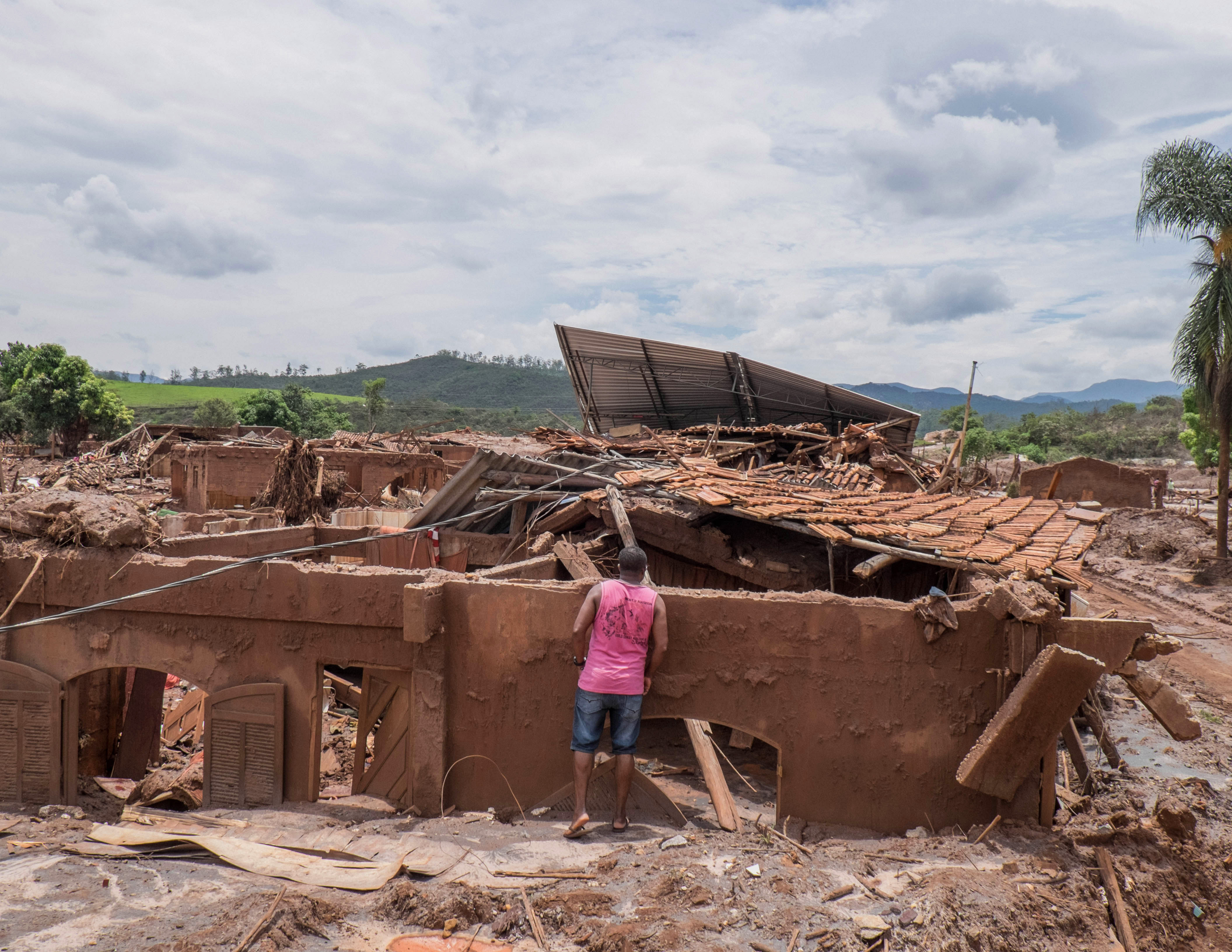 A resident looking over the destruction in Bento Rodrigues. The village will not be rebuilt.
The extent of the environmental damage remains contested, and a full environmental assessment by independent contractors has yet to be made.
As part of their damages payments, the companies must outline an extensive clean-up plan and suggest how to stop the mud from contaminating ground water sources.
Experts estimate that the now polluted River Doce, the region's most important river, could take between 10–50 years to recover, if it does at all.


Near the town of Periquito, 270kms away from the disaster zone, a fisherman shows a dead fish filled with mud onthe river Rio Doce.

In Periquito, a small fishing town around 270kms from the main spill, local fisherman Moises Gomes faces an uncertain future since he depends on the now polluted Doce River for his livelihood.

Fishing is suspended in the region until February to let the fish reproduce, but fishermen are still allowed to take in 3kg a day as a personal allowance known as the "fisherman's right". But Gomes is worried about eating the fish.

"How can I feed this fish to my kids, or to someone else's kids?" he asked while pulling apart a dead fish, showing it to be filled with mud. "We don't understand the level of contamination."


A month after the disaster, residents try to find what they can.

In the last 20 years there have been at least four similar – albeit less serious – mining incidents in the Minas Gerais region.

Samarco was once considered a world-class company with high standards of conduct. But if such a disaster could happen to Samarco, critics say it could easily happen elsewhere.

A report commissioned by the United Nations office of business and human rights, delegates from which were invited to Brazil by the government, concluded that around 40 of the roughly 740 dams located in the Minas Gerais region remained "at risk".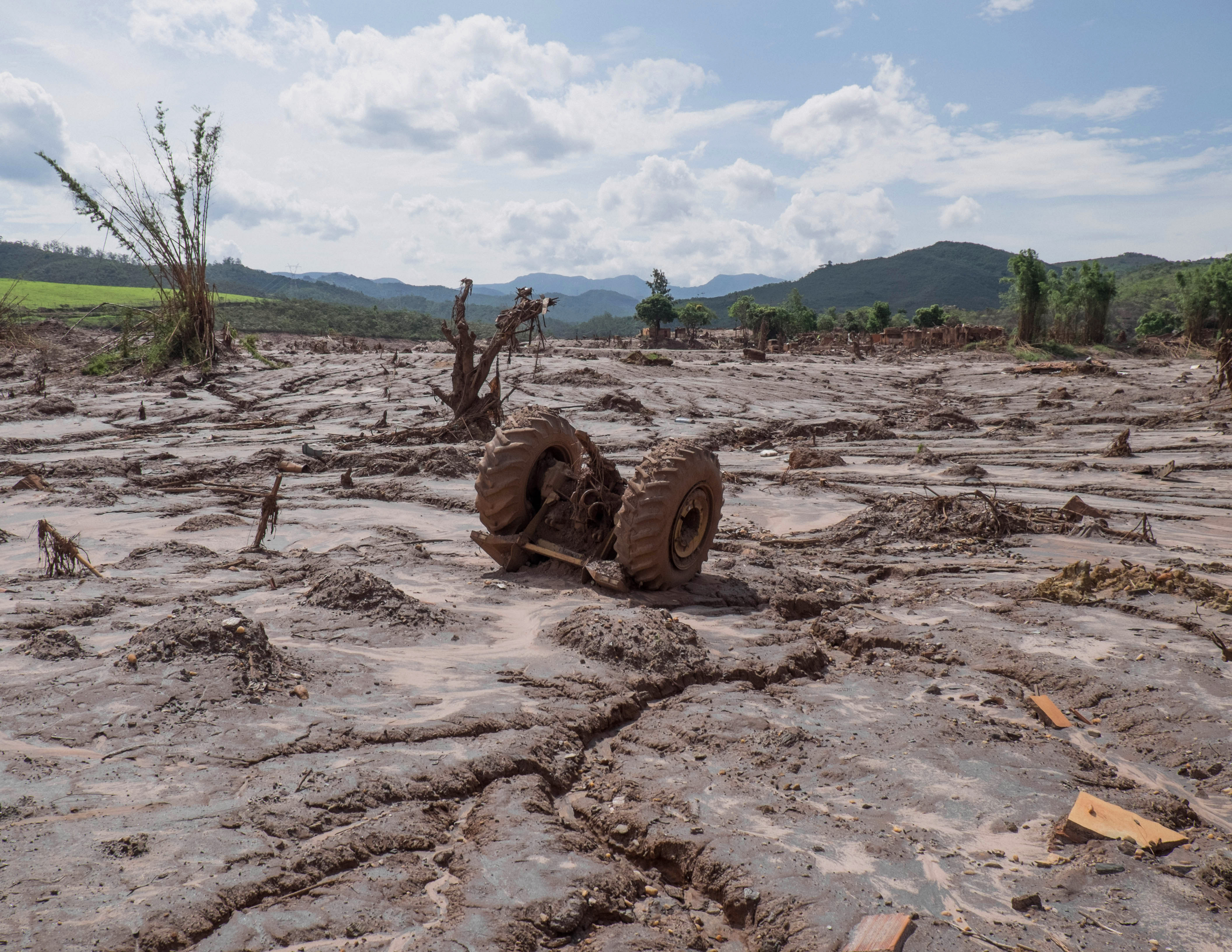 What's left of Bento Rodrigues, a village of 600 residents, after the collapse of a tailings dam operated by the Samarco mining company.
Analysts say that Brazil – as a developing, middle-income country – is trapped by its need for development and investment to create wealth and jobs, which often leads to slack regulation and oversight.

Dante Pesce, a member of the UN working group on business and human rights, which visited Brazil, said that relatively low fines encourage businesses to take risks.

"Even if the evidence is clear to condemn corporate practices, the fines are very low and therefore there is an incentive to take more risks on board than you should," he said.

Back in Bento Rodrigues, de Souza found a medal he won for sports as a child stuck in the mud.

"My life is buried underneath this mud – all 28 years," he said.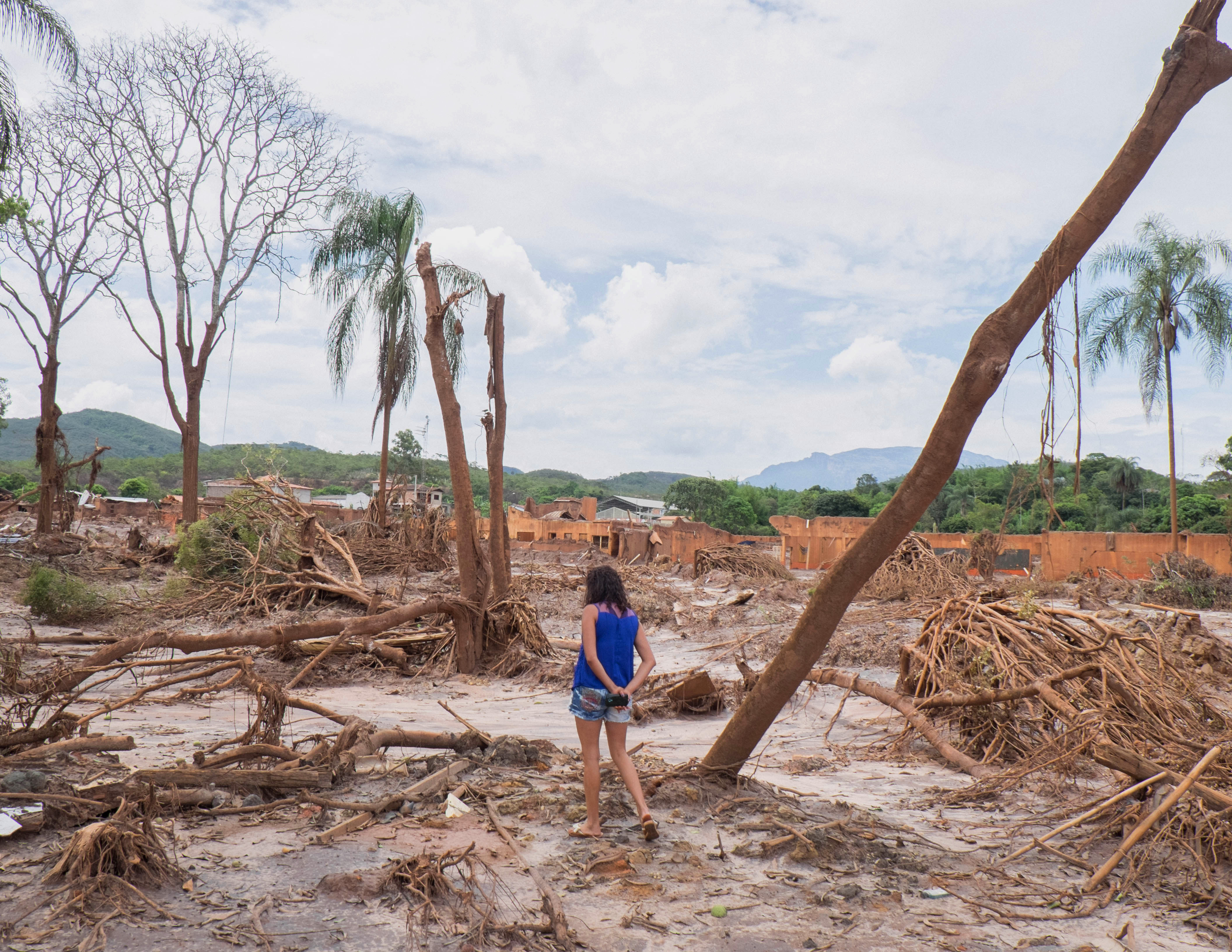 In Bento Rodrigues, nothing but destruction.