A TOUR OF THE MAGHREB
From Tunis to Tangier
#TourMaghreb
September 2013. Five weeks, three countries, one safari-bus.
Join us for a series of snapshots of real lives in Tunisia, Algeria and Morocco.
Adel Gastel, Karim Hakiki and I had covered a series of news events in the region. But this time, the plan was to stop by the wayside - away from the protests, palaces and press conferences.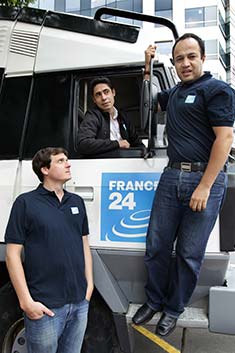 From left to right:
Christopher Moore, Karim Hakiki and Adel Gastel
The plan was to take FRANCE 24 on the road (complete with branded Safaribus) through Tunisia, Algeria and Morocco – a 5,000 kilometre journey through the western Maghreb.
FRANCE 24 ready to roll on a journey
cross the Maghreb
(length: 1:24)
Our journey began with just a map and a series of phone calls in Paris, and ended three months later with a flight out of the Moroccan city of Tangier.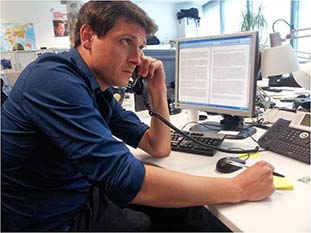 Christopher Moore
Port of Tunis
In late September, after hours of negotiating the bus's passage through the port, we park on Avenue Bourguiba, the epicentre of the Arab Spring
back in 2011.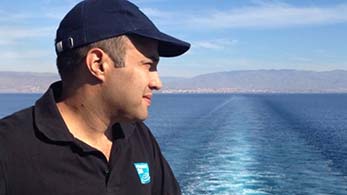 Adel Gastel
Tunis
Two years on, the Tunisian capital is still coming to terms with the revolution that toppled president Zine al-Abidine Ben Ali. Life continues peacefully on the tree-lined boulevard, but the barbed wire remains in place.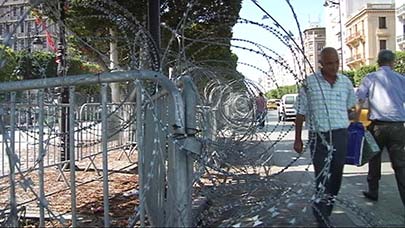 The removal of Ben Ali's régime has led to months of soul-searching. Although authoritarian, the system he left behind enshrined a series of women's rights in the constitution. With Islamists Ennahda in power at the time of our visit, many Tunisians are agonising over what constitutes liberty.
The next day, we meet two female students, Asma and Najla. Asma is adamant: "freedom for women means the freedom to wear the veil."  She's proud to wear a garment that was banned on campus for years. The hard-working chemist has little time for European notions of the headscarf as a symbol of patriarchy and oppression.
Tunis: students divided over
nation's politics. - #TourMaghreb
(length: 3:53)
Sidi Bouzid
After two days in the capital, we head south to dusty, poverty-stricken Sidi Bouzid. It was here that vegetable seller Mohammed Bouazizi set himself on fire, sparking the wave of protests that swept the country from late 2010.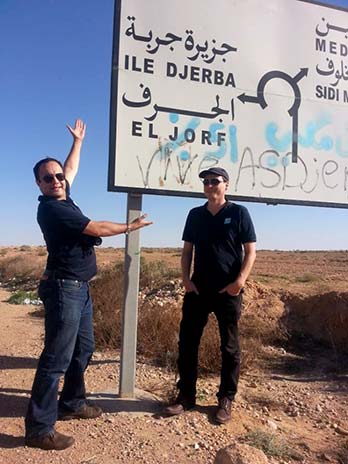 On the road to Djerba
After a string of warnings about the security situation in the area, we decided to leave the bus in Tunis.

We're keeping a low profile in our run-of-the-mill hire car. But every time we slow down we feel we're being watched – sometimes with curiosity, sometimes with hostility. We arrive at dusk after a long drive on a series of backroads.
We're here to film the policewoman Soundous, whose life has not been easy recently. Two years after Bouazizi's self-immolation, living conditions have yet to improve and the anger is palpable.
Sidi Bouzid:
a city living in fear - #TourMaghreb
(length: 4:13)
Clashes between police and demonstrators remain a feature of life. Meanwhile, ultra-conservative Salafist preachers are increasingly en vogue in local mosques. On the roads outside town, Islamist militants have been involved in shootouts with the authorities.
Share
Story of a Tunisian policewoman
In Sidi Bouzid
@FRANCE24
Soundous, who's married to a fellow officer, tells us she and her husband are scared to go out when off-duty. Many Tunisians, Soundous says, associate the police with the excesses of the Ben Ali regime.
Meeting Soundous, policewoman in Sidi Bouzid - #TourMaghreb
(length: 0:32)
Gafsa
Our next stop is Gafsa, where we have a run-in that highlights the murky security situation.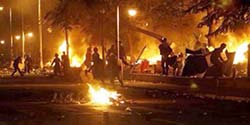 #Gafsa , #Tunisia 27-07-2013 Right now ! Violent Clashes BetweenProtesters and Police. pic.twitter.com/noRIhiMQHg
On a road south of town, we're stopped while filming a factory by a man in immaculate Salafi attire who introduces himself as "a guardian of the revolution."

A heated exchange follows, during which he accuses us of being "Jewish spies." Karim does his best to calm the situation but our interlocutor becomes increasingly aggressive.

As he begins a series of angry phone-calls to destinations unknown, we decide it's time to leave.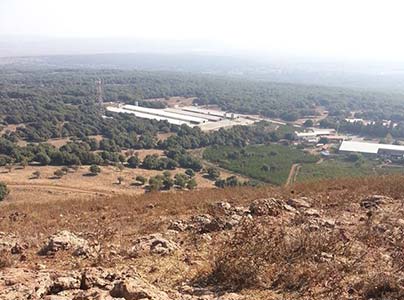 Most people in Gafsa live from mining
Port of Algiers
Two days later, the bus is on the pavement outside the iconic main post office in the centre of the Algerian capital. It proves an instant attraction, as does anything out of the ordinary in a city where overseas visitors are relatively rare. The welcome is warm and comes with a heavy dose of national pride.
By day, the streets are bustling. At night, they're largely empty, despite the mayor's efforts to persuade cafés and restaurants to remain open late. After 9pm, there's little sign of life except refuse collectors and cats in varying states of health.
Twelve years on from a civil war that killed up to 150,000 people and scarred a generation, this is not a place that lets itself go.
Bologhine
The one exception to that rule is football. The nextday, we're pitchside at the city's historic Bologhine stadium.
Home side USMA have a top-of-the-table clash with Constantine and the atmosphere is electric. Despite Algerians' long-standing love affair with the game, the national league has suffered from a lack of investment. That's beginning to change as Middle Eastern cash flows in. Talented young players who would otherwise be eyeing a move to Europe are starting to dream of a future at home.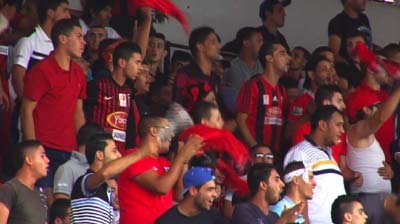 Share
Algeria and football,
a long-standing love affair.
@FRANCE24
Biskra
With revenue pouring in from petrol and gas, the Algerian government has never really focused on tourism. It seems a shame given the nation's varied and often breathtaking landscapes, from the hilly north to the vast sandy deserts of the south.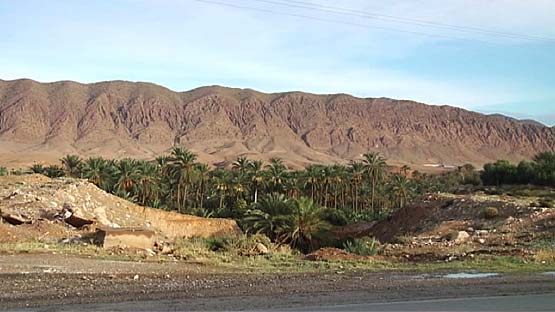 Algeria lacks tourist infrastructure
In the desert outside Biskra, we meet Bachir. He dreams of creating an eco-tourism destination centred around his camel farm. He's built up the herd from scratch and is having no trouble luring Algerians with the reputedly restorative powers of camel milk.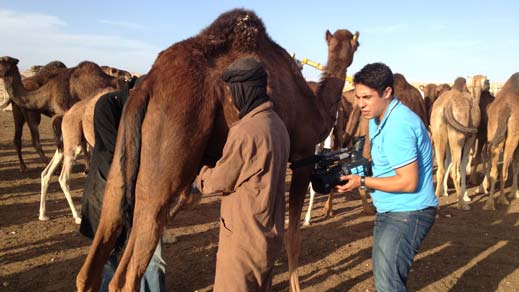 Algerian mix of camel milk and urine,
a miracle cure?
(length: 0:25)
Foreigners remain a distant dream: "This is all we can do for now, there's no infrastructure." The nearest hotel is 50 kilometres away in Biskra - and Biskra is a long way from anywhere.
Oran
Our next stop is Oran, home to the fusion of traditional sounds and pop music, known as Rai. We film with one of the genre's rising stars, Cheb Houssem - an opportunity for Adel to show off his frankly unsettling vocal skills.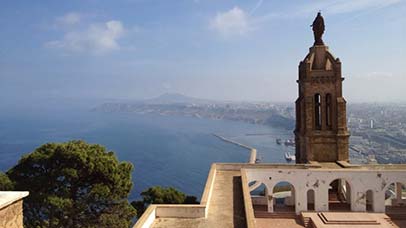 Oran, the homeland of Rai
We met Cheb Houssem, a Rai prodigy
(length : 0:27)
Our presence in the Places d'Armes elicits a surprising response from some but, as usual, the overall welcome is warm.
Oran.
Our presence elicits a surprising response. Watch the video
(length: 0:20)
After Oran we head towards the Moroccan border.
Frosty relations between Algeria and Morocco over the disputed territory of Western Sahara have left the crossing closed.
Finding a way through is possible with a bit of ingenuity, but not with a safari bus.
So, for us, it's an eight-hour crossing to Spain, followed by another one back to the Moroccan port of Nador, 100 kilometres along the coast. Our journey, punctuated by a short night's sleep in Almeria, is an exercise in reading, counting sheep and repeated consumption of the ship's one-option lunch menu (chicken and rice).
From Algeria to Morocco,
via Spain - #TourMaghreb
(length: 1:36)
The onboard set-up is a triumph of Thatcher-nomics: an aged Russian vessel, registered in Cyprus, where a Spanish-Algerian crew serves Slovenian wine from a British bar. "I do this journey twice a year," says one of our few traveling companions, an Algerian with family in Rabat. "It's very frustrating."
After a night in Nador, we hit the road for a long journey south. The final hours are unforgettable as we negotiate the hairpin turns of the Atlas Mountains and plunge into the desert.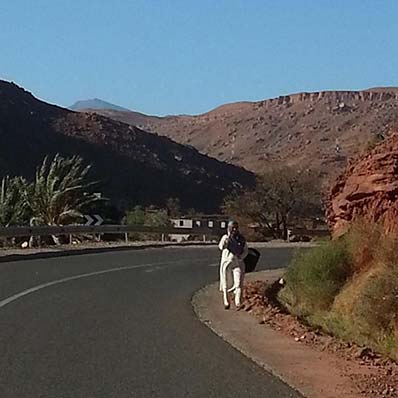 Ouarzazate
Ever since David Lean decided to bring Laurence of Arabia to the Sahara, the oasis of Ouarzazate has been Morocco's answer to Hollywood.

From 'Gladiator' to 'Kingdom of Heaven', a host of blockbusters has been filmed here. Setting up shoots for demanding western clients has made a slew of local producers and fixers very wealthy.
We head to the studios, on the cusp of the sands. No big names are around today - instead, we stumble upon a largely South African crew shooting a recreation of the life of Christ for American Seventh Day Adventists.

There's plenty of work for Moroccans here, but only as extras - those who play the big roles, and those who film them, are almost entirely imported.
Ouarzazate - A Moroccan answer to Hollywood
(length: 0:22)
At lunchtime, the Westerners head off to the canteen, while the actors are left eating tinned sardines in the shadows of the set for the latest Asterix movie.

"How does it feel being the Messiah?" we ask one of them. "Well, it's a job," he replies.
Tangier
We take to the motorway one last time and head to Tangier, where writers such as Tennessee Williams and Paul Bowles have flocked since the 1940s.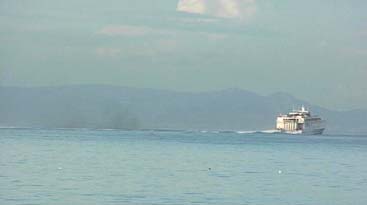 Tangier is at the crossroads of two oceans
and two continents
The writer and poet Rachida Madani kindly offers us a guided tour. The once compact city is rapidly spreading eastward, the hills on the edge of town dotted with developments of varying quality. "It's no longer the Tangier of my childhood…"
Tangiers: Forever at a Crossroads - #TourMaghreb
(length: 2:53)
The flow of immigration has reversed in this city, which is just a stone's throw away from Spain and Gibraltar. Tangier is now proving popular for thousands of Spaniards fleeing their country's economic woes. Many are working illegally.
A city forever at a crossroads, a fitting place to end our trip.
Share
The end of the road
in literary Tangier.
@FRANCE24

Adapted from a France24 news report of Karim Hakiki, Adel Gastel and Christopher Moore.
Interactive production: Lydia Berroyer et Marianne Rigaux
Design: Studio graphique France Médias Monde
Development: Sacha Quester-Séméon
Copy editing: William Prendiville